World Boxing Association ''super'' and International Boxing Federation bantamweight champion Naoya ''The Monster'' Inoue of Ohashi Boxing Gym is brimming with confidence as the June 7 showdown with World Boxing Council bantamweight ruler Nonito Donaire of the Philippines at Saitama Super Arena in Saitama Prefecture draws near, the gym said on May 19.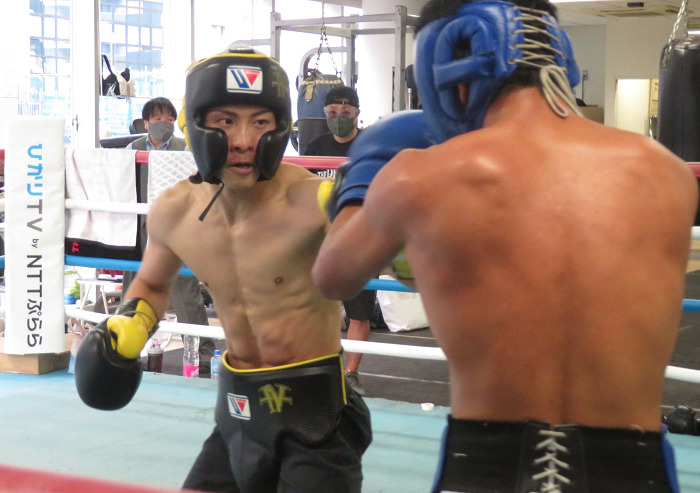 Inoue, 29, went four rounds of a sparring session with the 26-year-old KJ Cataraja of the Philippines, the World Boxing Organization's 10th-ranked super flyweight, at the gym in Yokohama during his training which lasted about an hour and a half and appeared in tip-top shape.
The following is a question-and-answer session compiled by the gym.
Question: What is your current state of affairs about your weight reduction efforts?
Answer: My weight reduction efforts have been going smoothly. The upcoming fight will be my eighth fight in the bantamweight division, and I am used to it. Particularly, I am highly motivated in the upcoming fight. I feel great.
Q: Your fight will be only two weeks away next Tuesday. Do you feel a sense of excitement?
A: I think I get excited with each passing day.
Q: You are doing many sparring sessions this time around. Any reason?
A: Yes. We have already done three eight-round sparring sessions. Basically, I do four-rounds of sparring and sometimes include six-to-eight-round of sparring sessions depending on my condition. I do many rounds of sparring to enhance my stamina. If I think I can do it, I do eight-rounds of sparring by paying attention to my knuckles. I don't feel any big change in my training.
Q: This will be the firs time for you to have a rematch after turning pro. But you had rematches in your amateur boxer days.
A: I am well rounded in this respect. I know my opponent's strategy once I have fought him. So, I make it a rule to fight by putting everything in proper perspective.
Q: Your rematch with Donaire is dubbed ''Drama in Saitama 2.'' Any comments?
A: It won't be a drama this time around because I think I can finish him without much ado.
Q: Do you mean you are confident of giving him the coup de grace?
A: I think Donaire would probably retire if he loses. Unlike in the previous fight, in which Donaire thought he could do it better the next time around. I will be careful not to make any mistakes. There are lots of things in which I am not satisfied in the first fight.
Hideyuki Ohashi, head of the gym, said, ''I am given to understand WBO bantamweight champion Paul Butler of England wants to visit Japan to watch the fight.''
Photo by Ohashi Boxing Gym