The inaugural meeting to vivify the Japanese pro boxing world by Japan's parliamentarians was held on Nov. 7 at the ruling Liberal Democratic Party Headquarters in Tokyo with Shoji Kobayashi, president of Japan Pro Boxing Association, Hideyuki Ohashi, head of Ohashi Boxing Gym, attending among others.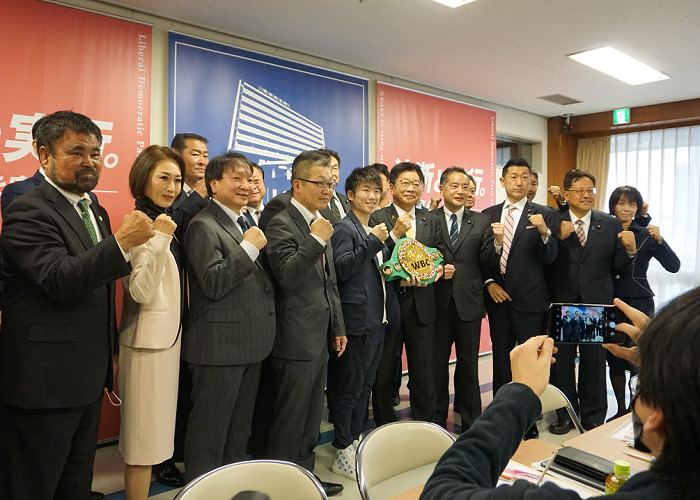 The meeting, led by Health, Labour and Welfare Minister Katsunobu Kato as the chairman, was launched with the purpose of enhancing the boxing world with the view to increasing the number of boxers, helping financial troubles often incurred by boxing gyms, advancing people's health in general etc.
World Boxing Council and World Boxing Association light flyweight champion Kenshiro Teraji of B.M.B. Boxing Gym, who has just won the title unification fight, also attended the meeting. Teraji said, ''I hope strong support of the parliamentarians so that the boxing world will evolve further.''
When asked about Naoya ''The Monster'' Inoue by some parliamentarians, Ohashi replied, ''He is all set to unify the bantamweight division of the all the four major sanctioning bodies for the first time as a Japanese boxer (by beating World Boxing Organization bantamweight champion Paul Butler of Britain on Dec. 13 in Tokyo).
Kato said, ''We would like to support the gyms because they function as a place for young people to bring their dream to life while enhancing their health.''