Former undisputed world bantamweight champion Naoya ''The Monster'' Inoue of Ohashi Boxing Gym said in Tokyo on Jan. 31 he is most excited about fighting with Stephen Fulton of the U.S., who currently owns the World Boxing Council and World Boxing Organization super bantamweight titles.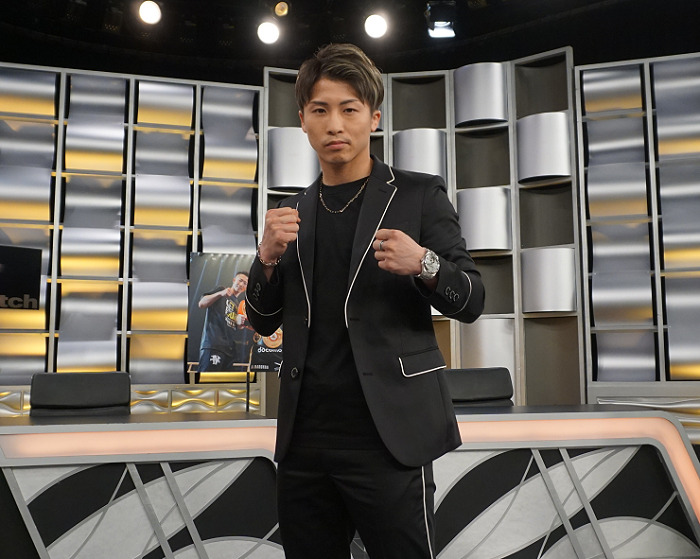 Inoue, accompanied by his father and trainer Shingo Inoue, told reporters after a special TV appearance, ''I feel the highest sense of tension in my career because I will venture into uncharted territory (fighting at super bantamweight). Though he did not mention his concreate evaluation of Fulton because ''It is still in the midst of a negotiation.''
''What I am concerned about is what kind of performance I can do at super bantamweight. No matter how much I prepare for a super bantamweight fight, I cannot have firsthand knowledge unless I climb through the ropes, '' Inoue told the reporters.
His father Shingo said, ''Since he (Fulton) has a good defense, what is important is to move in and out quickly rather than moving in on a routine basis. Through this, Naoya will feel himself when is the right moment to move in. Then, he will find the flow of action.''
Asked about his intention to conquer all the super bantamweight titles by facing Murodjon Akhmadaliev of Uzbekistan, who holds the World Boxing Association and International Boxing Federation super bantamweight crowns, within this year if Inoue beats Fulton, Inoue replied, ''I think it will take about four years and eight months to build a frame capable for fighting at super bantamweight in a real sense, just like I needed to fight at bantamweight. If by any chance I am in that position, I will not think about moving up in weight any further.''