The International Boxing Federation's fifth-ranked minimumweight Ginjiro Shigeoka of Watanabe Boxing Gym wants to have a rematch with champion Daniel Valladares of Mexico on Apr. 16 as he told reporters at the gym on Feb. 2 after the resumption of his training.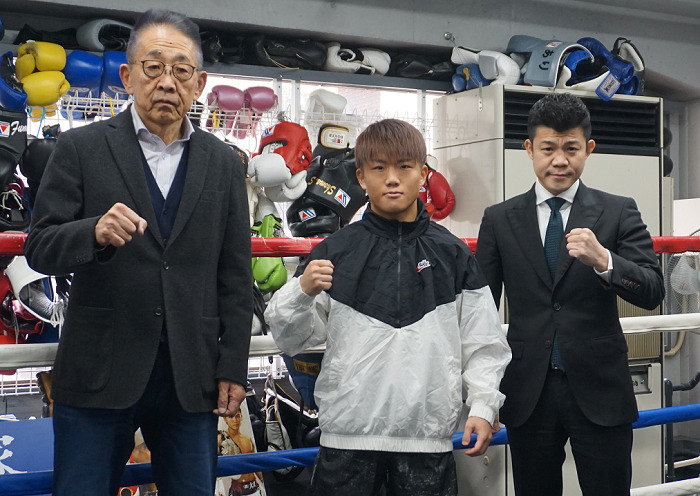 The Valladares-Shigeoka fight at EDION Arena Osaka on Jan. 6 this year was declared no decision (no contest) as the 28-year-old Valladares could not continue the fight due to an accidental head butt in the third round.
Since Valladares suddenly stopped fighting late in the round after the head butt with Shigeoka, in which Valladares' head appeared to have hit Shigeoka's chin when the Mexican attempted to get inside, the referee declared no decision despite the fact that he was given a few minutes of recess in the ring.
While Both sides met the following day together with a supervisor of the IBF and Kameda Promotion Co. head Koki Kameda, who promoted the fight as part of the ''3150FIGHTVol.4'' boxing series, and agreed that they will try to have their rematch.
But up until today, no order for their direct rematch has been given from the IBF considering the matter of a designated challenger and so forth.
The 23-year-old Shigeoka, who spent two weeks in his hometown in Kumamoto Prefecture, southwestern Japan, after the fight, said, ''I remember the things about the fight every day. I got peeved at the fight result at first, then felt chagrined and reflected on the fight like I could have been or should have been.''
Kameda, who was also at the gym, said, ''We are requesting the IBF to check the fight and permit the rematch by way of JBC. I think we will receive the result from the IBF at an early date.''
Since Kameda promotion is scheduled stage the ''3150FIGHTVol. 5'' at Tokyo's Yoyogi National 2nd Gymnasium on Apr. 16, Shigeoka said, ''I really hope the rematch will be held on Apr. 16. I am determined to knock him out completely.''