All 10 boxers in Apr. 8 Prime Video Presents Live Boxing clear weigh-ins
Apr 07, 2023 22:16 pm
All the 10 participating boxers in the fourth leg of ''Prime Video Presents Live Boxing'' to be held on Apr. 8 at Tokyo's Ariake Arena cleared their respective weigh-ins on Apr. 7, thereby setting the stage for the sport's extravaganza which will start 4 P.M. Japan time.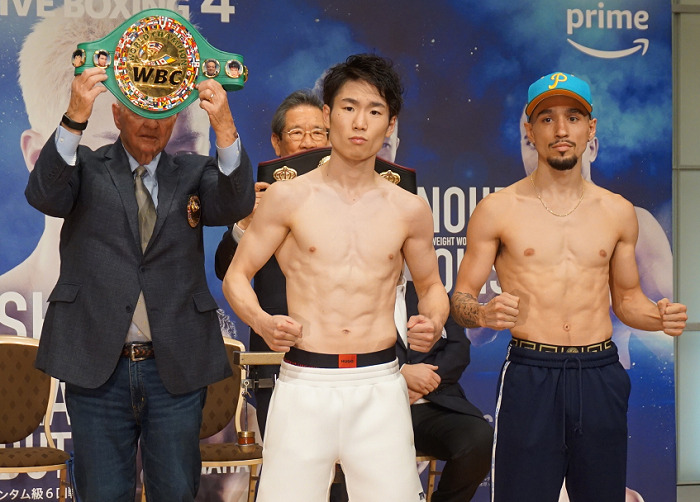 World Boxing Council and World Boxing Association light flyweight champion Kenshiro Teraji of B.M.B. Boxing Gym tipped the scales at 48.6 kg while Anthony Olascuaga of the United States, the WBA's second-ranked flyweight, weighed in at 48.5 kg.
Teraji told reporters, ''Though I felt shocked (when the title unification fight with World Boxing Organization light flyweight champion Jonathan Gonzalez of Puerto Rico was called off at the last minute due to Gonzalez's disease) for a few days. I was able to put this behind me through training.
While I felt strange at first because I had been training only with southpaw partners (Gonzalez is left-handed), I was soon able to adjust myself to a right-handed opponent. I want to get through the coming fight with knockout so that I can move on to the next stage.''
It will be Teraji's second defense of the WBC title and his first of the WBA crown. The title match will serve as the main event of the day.
The 31-year-old Teraji has a record of 20 wins, including 12 KOs, against a loss. For his part, the 24-year-old Olascuaga, who replaced Gonzalez as he had been serving as a sparring partner for another Japanese boxer until recently in Tokyo, has five straight wins, including three KOs.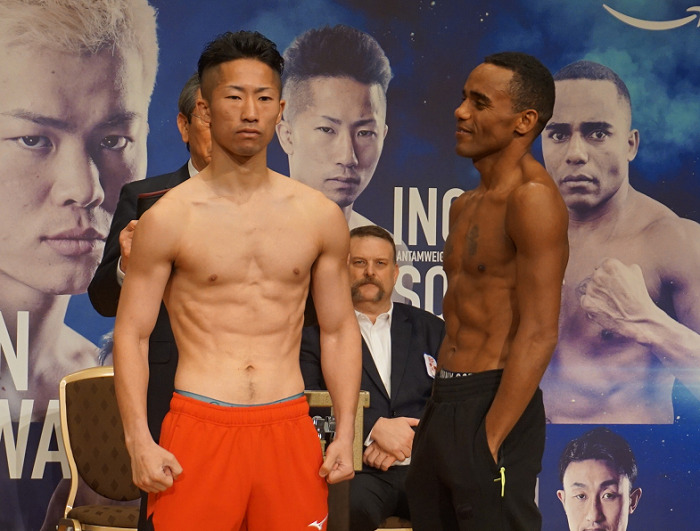 Meanwhile, second-ranked WBA bantamweight Takuma Inoue of Ohashi Boxing Gym weighed 53.5 kg while third ranked Liborio Solis of Venezuela tipped the scales at 53.2 kg for the vacant WBA bantamweight title fight held as the chief supporting card.
Inoue, 27, said after a long face-off with the 41-year-old Solis, ''I am in my best condition (for his first bantamweight fight in about two years). Since I aim at unifying all the division's titles, I cannot very well be defeated in my first attempt. I will shut him out.''
Inoue has a record of 17 wins, including four KOs, against a loss, whereas Solis, a former WBA super flyweight champion, has a 35-6-1 win-loss-draw tally with one no contest. He attained 16 KOs.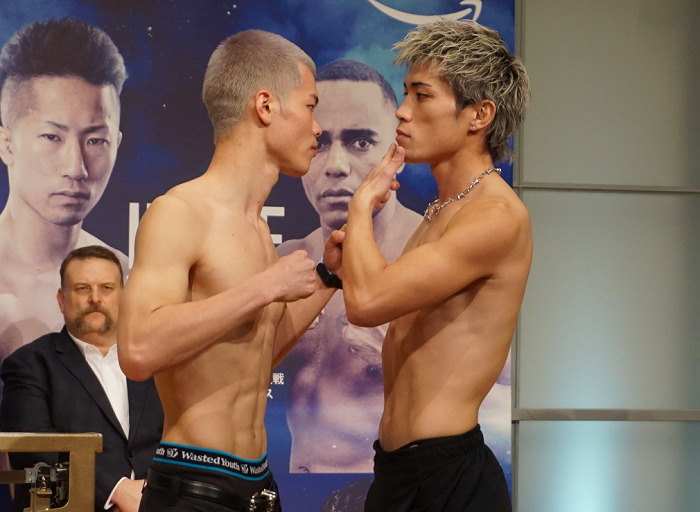 Kickboxer-turned Tenshin Nasukawa of Teiken Boxing Gym weighed in at 55.2 kg in his professional debut in a super bantamweight six rounder against fourth-ranked Japanese bantamweight Yuki Yonaha of Shinsei Boxing Gym who tipped the scales at 55.3 kg.
Yonaha has a record of 12 wins, including eight KOs, against four losses and a draw.
The 24-year-old Nasukawa, popularly known as a child prodigy when he was a kickboxer, said, ''I was able to reduce my weight smoothly. I think I can show the real Tenshin Nasukawa 100 percent. I want more people to see the fight. I am determined to show the real fighting sport.
Yonaha, 32, said, ''I don't think Nasukawa has an aura. It's me who has an aura. I hope fans will witness the moment of history being made.''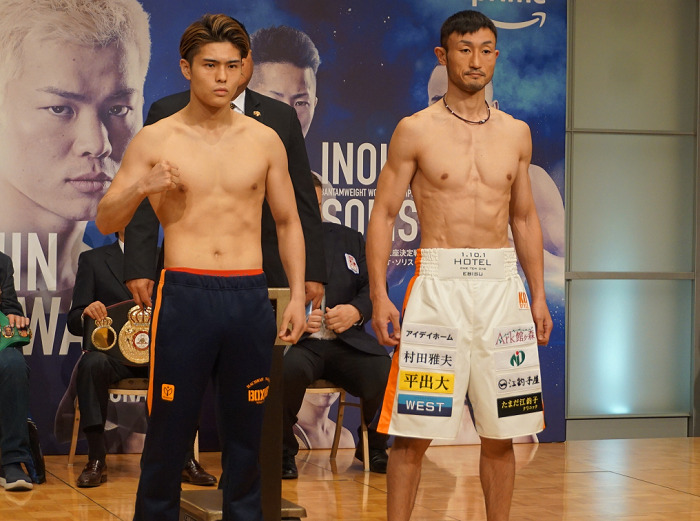 The WBO's Asia-Pacific welterweight champion Jin Sasaki weighed 66.4 kg while top-ranked challenger Keita Obara tipped the scales at 66.5 kg.
The 21-year-old Sasaki, who has a record of 14 wins, including 13 KOs, against a loss and a draw. For his part, the 36-year-old Obara, the Japanese welterweight kingpin, has a 26-4-1 win-loss-draw tally with 23 KOs.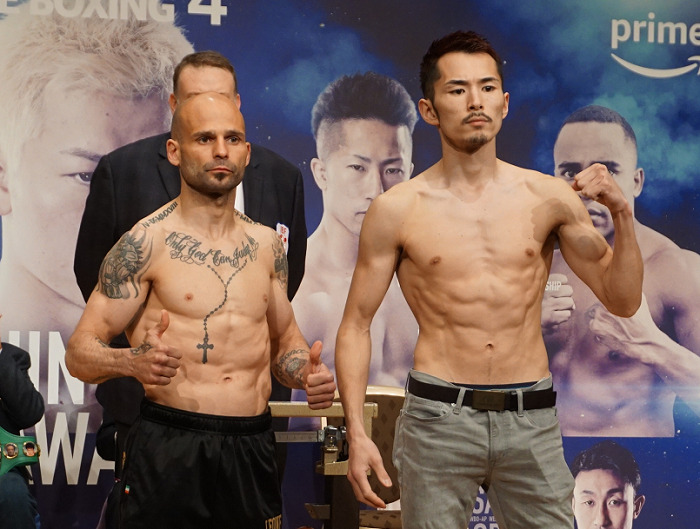 The International Boxing Federation's third-ranked featherweight Reiya Abe of KG Yamato Boxing Gym weighed in at 57.0 kg while second-ranked Kiko Martinez of Spain tipped the scales at 56.8 kg in the IBF featherweight title eliminator.
The left-handed Abe, 30, has a record of 24 wins, including 10 KOs, against three defeats and a draw. For his part, the 37-year-old Martinez, former IBF super bantamweight and featherweight champion, has a 44-11-2 win-loss-draw tally with 31 KOs.