Kickboxer-turned Nasukawa makes brilliant professional debut at super bantamweight
Apr 08, 2023 23:23 pm
Kickboxer-turned Tenshin Nasukawa of Teiken Boxing Gym made a brilliant professional debut in a super bantamweight six round fight as he hammered out a lopsided decision over second-ranked Japanese bantamweight Yuki Yonaha of Shinsei Boxing Gym on Apr. 8 at Tokyo's Ariake Arena.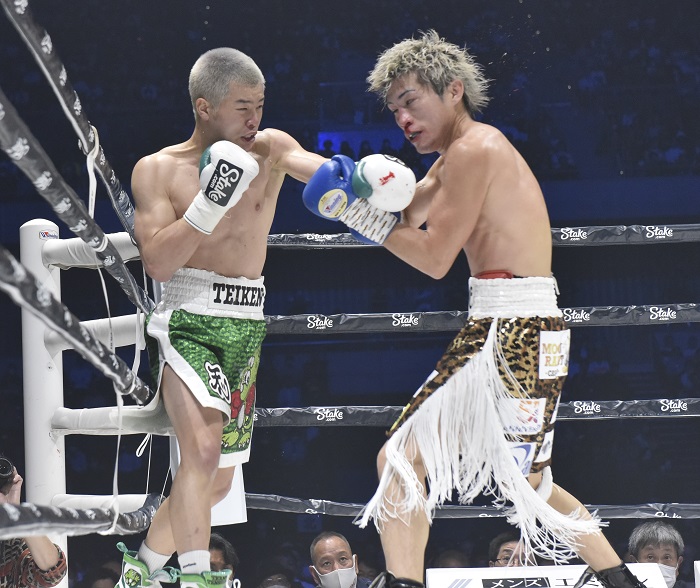 The 24-year-old Nasukawa, popularly known as a child prodigy when he was a kickboxer, scored a light knockdown in the second round with a right hook when Yonaha, 32, missed a wild left hook.
The left-handed Nasukawa, who was undefeated in his 42 bouts as a kickboxer, controlled the fight the rest of the way by landing sharp right jabs and straight lefts. Nasukawa did not allow his opponent to score any decisive blows throughout the fight. The fight was held as part of the event dubbed ''Prime Video Presents Live Boxing 4.''
After the fight, Nasukawa said, ''I am glad that I was able to make a successful debut because I have been training for the past six months for this match, and people will regard me as a boxer. Though I could not knock out my opponent, I am happy that I was able to fight for six rounds.''
''From now on, I will improve myself more with my teammate so that I can win a world title. I will strengthen myself and am determined to attain a KO victory, ''he added.
With the loss Yonaha now has a record of 12 wins, including eight KOs, against five losses and a draw.
The World Boxing Organization's Asia-Pacific welterweight champion Jin Sasaki of Hachioji Nakaya Boxing Gym, overcoming a second-round knockdown, stopped top-ranked challenger Keita Obara of Misako Boxing Gym in the third round and retained his title for the first time.
The technical knockout of the scheduled 12-rounder came 1 minute and 13 seconds into the round when the referee called off the fight when Sasaki decked Obara with a devastating overhand right to the head.
Obara, 36, put the 21-year-old Sasaki on the seat of his pants with a straight right in the second round for a mandatory eight count. But Sasaki, 21, was nothing daunted, came back strongly in the third round and dropped Obara with a hard left hook to the body.
While Obara struggled to his feet, Sasaki increased his pace, which resulted in his sharp and hard overhand right. The referee stopped the fight without bothering to count.
After the fight, Sasaki said, ''I think I was able to do what I learned in my training. Wait for me a world welterweight champion out there! I am coming.''
Sasaki increased his record to 15 wins, including 14 KOs, against a loss and a draw. For his part, Obara, the Japanese welterweight kingpin, fell to a 26-5-1 win-loss-draw tally with 23 KOs.
The International Boxing Federation's third-ranked featherweight Reiya Abe of KG Yamato Boxing Gym pounded out a 12-round unanimous decision over second-ranked Kiko Martinez of Spain in the IBF featherweight title eliminator.
There were no knockdowns in the fight.
While southpaw Abe, 30, was stiff at the beginning, he utilized his quick footwork and began to control the fight by landing right jabs and straight lefts to the head and body throughout the fight.
Though veteran Martinez moved forward, he failed to fight at close range before Abe's quick side-to-side boxing.
After the fight, Abe said, ''I am relieved that I was able to come through. I am determined to make an effort at taking a crack at the world title.''
With the win, Abe improved his record to 25 wins, including 10 KOs, against three defeats and a draw. For his part, the 37-year-old Martinez, former IBF super bantamweight and featherweight champion, fell to a 44-12-2 win-loss-draw tally with 31 KOs.