World Boxing Association super and International Boxing Federation bantamweight champion Naoya ''Monster'' Inoue, now in Las Vegas, NV to defend his titles against top-ranked World Boxing Organization bantamweight Jason Moloney of Australia here on Oct. 31 (Nov. 1 Japan time), gave a 90-minute interview to a boxing news commenter for ESPN, which will broadcast Inoue's fight, on Oct. 27.
Retouched photos of the 27-year-old Inoue were also taken by having Inoue change his clothes into boxing trunks.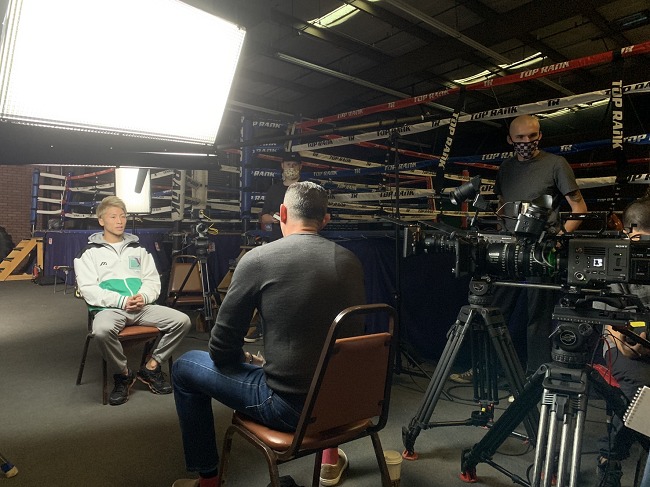 After the interview ended, Inoue returned to his hotel room instead of the Top Rank Gym and engaged in a light training of punching mitts held by Ohashi Boxing Gym trainer Kosuke Ota in the room
Inoue is not expected to practice at the gym anymore. Inoue, who also had three short online interviews on Oct. 26, said, ''While it is unthinkable for a boxer to receive a long interview shortly before a fight especially when we have to pay attention to a weight control. But it appears to be common outside Japan. That's what I have heard. I have to get used to it.''
The scheduled 12-rounder with the 29-year-old Moloney, who is currently ranked second by the WBA and fourth by the IBF, and undercard bouts will take place at the MGM Grand Conference Center behind closed doors due to concerns about the novel coronavirus pandemic.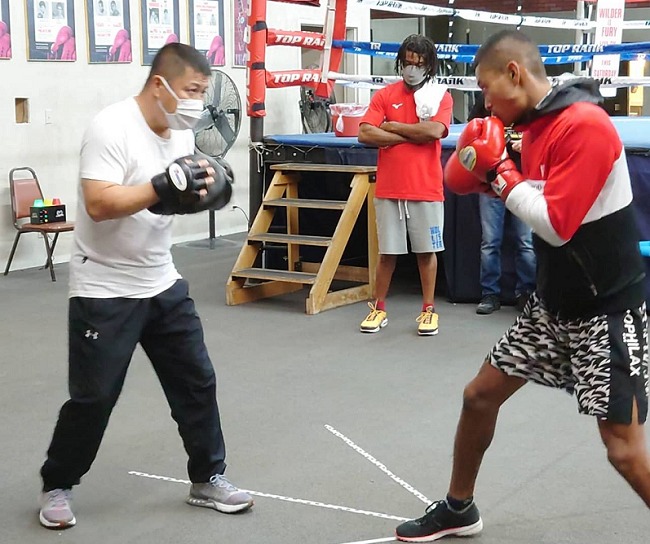 Meanwhile, top-ranked Japanese super lightweight Andy Justice Hiraoka of Ohashi Boxing Gym, who will face Rickey Edwards of the U.S. in an eight-round bout on one of the undercards on Oct. 31, engaged in a usual training at the Top Rank Gym, doing rope skipping, hitting a punching bag and punching mitts.
According to Hideyuki Ohashi, head of the Ohashi gym, the 24-year-old Hiraoka, undefeated in his 15 bouts with 10 knockouts, is also in good condition. Photos by Ohashi Boxing Gym