World Boxing Association super and International Boxing Federation bantamweight champion Naoya ''Monster'' Inoue and Australian challenger Jason Moloney did a face-off in an official press conference at the MGM Grand Conference Center in Las Vegas, NV on Oct. 29, two days ahead of their showdown at the MGM's ''bubble.''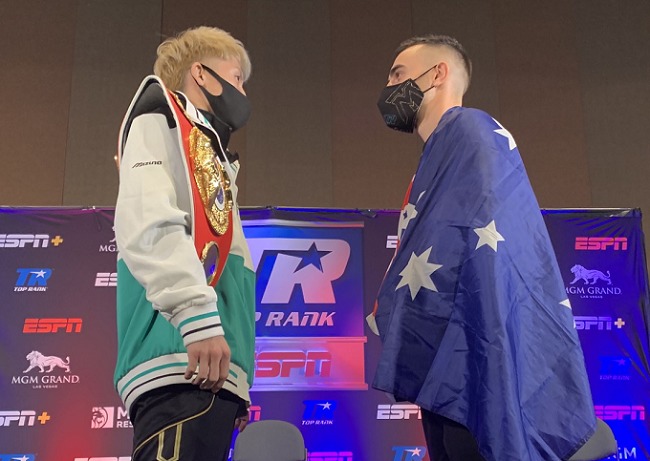 Among attendees at the day's press conference, organized by Top Rank Inc. promotion company, were Hideyuki Ohashi, head of Ohashi Boxing Gym to which Inoue belongs, and Inoue's father and Ohashi gym trainer Shingo.
All the boxers, trainers and staff concerned who took PCR tests the day before to check the novel coronavirus showed negative results.
But they had to move to the conference room by using a specially designated elevator, a concealed passageway and Top Rank's specially arranged shuttle bus, all of which is to further make sure to shut away the COVID-19.
''My impression of his boxing is he (Moloney) is a high-level boxer on every front. I know many people are expecting me a lot, and I admit I feel some kind of pressure. But I am determined to do the kind of boxing most people are expecting of me,'' the 27-year-old Inoue said at the press conference.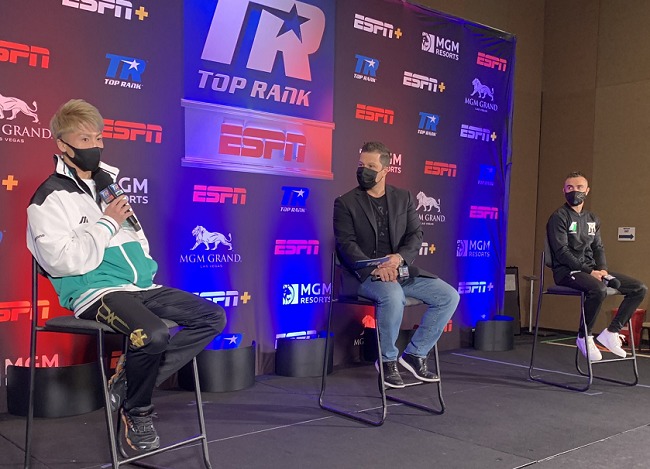 For his part, the 29-year-old Moloney, who is currently ranked second by the WBA and fourth by the IBF, appeared to be very confident as he said there is nothing to impede his victory. he will become the strongest bantamweight boxer as he will surprise the world Saturday night (Sunday morning in Japan time). '' Moloney is also ranked first in the bantamweight by the World Boxing Organization. He has a 21-1 win-loss record with 18 KOs.
After the conference, they did a routine face-off by wearing face masks, respectively.
Inoue, who is undefeated in his 19 bouts, including 16 knockouts, said ''I did not feel any particular impression of Moloney. But I got the impression he got fired up a little too much.''
Before the press conference, Inoue thoroughly checked the ring in the competition site, next to the press conference room. After the conference ended, Inoue gave various media interviews.
The scheduled 12-rounder with Moloney and other undercard matches at the MGM Grand Conference Center, part of the bubble, will be held behind closed doors to avoid COVID-19. Photos by Ohashi Boxing Gym