Undefeated World Boxing Association light flyweight ''super'' champion Hiroto Kyoguchi of Watanabe Boxing Gym expressed his determination at a press conference online on Jan. 29 ahead of his third defense of the title in the United States on March 13.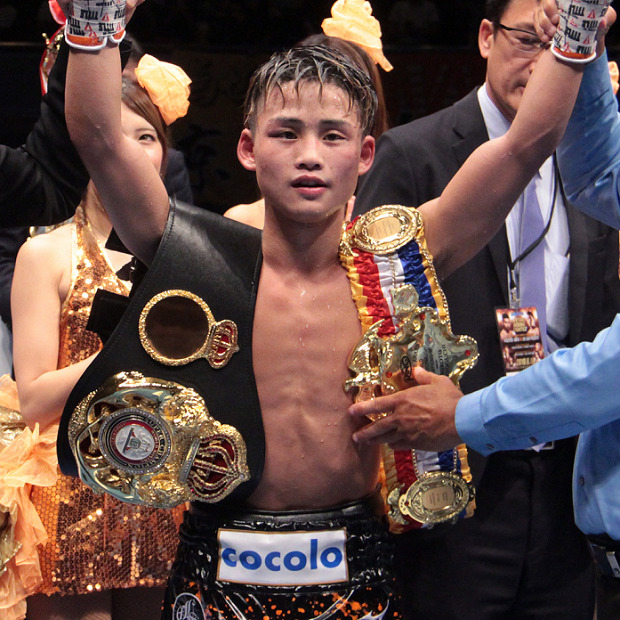 The 27-year-old Kyoguchi, flanked by the gym's owner Hitoshi Watanabe, said, ''I've always wanted to have a world title match in the United States ever since I became the world champion. But it is easier said than done. Therefore, I am determined to show a Japanese boxer is strong.''
Kyoguchi, who concluded the contract with sporting event promotions company Matchroom Boxing of England last December, is supposed to make his third defense of the title against Axel Aragon Vega of Mexico at the American Airlines Center in Dallas in the state of Texas.
The bout is regarded as one of the supporting cards for the title unification bout between World Boxing Council super flyweight champion Juan Francisco Estrada of Mexico and WBA's ''super'' champion Roman ''chocolatito'' Gonzales of Nicaragua, who also has ties with Tokyo's Teiken Boxing Gym.
While Matchroom has already said Kyoguchi will fight the 20-year-old Vega, who has a record of 14 wins, including eight KOs, against three defeats and a draw, Watanabe said the gym has not yet concluded a formal contract to that effect although he said Vega would probably be Kyoguchi's opponent.
Kyoguchi, who has 14 straight wins, including nine KOs, said, ''I don't mind who will be my opponent because I believe I can beat anybody if I can do my boxing. Therefore, I have been constantly trying to improve myself.''
Kyoguchi had to cancel his planned title defense against Thai's Thanongsak Simsri on Nov. 3 last year in Osaka as Kyoguchi and his chief trainer proved positive in PCR tests for novel coronavirus immediately before the fight.
While the Watanabe gym exchanged memorandums with the Thai side that Kyoguchi would give priority to Thanongsak in his title defense.
But Watanabe is of the view that this is only when the gym hosts an event by itself, and if another promoter stages an event, the memorandums do not apply.
Watanabe said he has already obtained approval to that effect from Green Tsuda Boxing Gym head Masaya Motoishi, who has Thanongsak's management contract.
Since Kyoguchi has not fought since October 2019, he has been engaged in sparring sessions upon the turn of this year and will continue to do so so that he can restore his touch after a long absence.
It is said that Kyoguchi is suffering from insomnia after the confusion surrounding the COVID-19, he brushed it aside by saying, ''It is a matter of mental toughness. I am determined to cope with it with a strong motivation to have a fight.''