Japan bantamweight title fight ends in draw due to accidental forehead injuries
Jul 27, 2021 9:38 am
The Japanese bantamweight title match between top-ranked Kyosuke Sawada of JB Sports Boxing Gym and second-ranked Ikuro Sadatsune of T&T Boxing Gym ended in a draw due to accidental injuries to their foreheads in the second round at Tokyo's Korakuen Hall on July 26.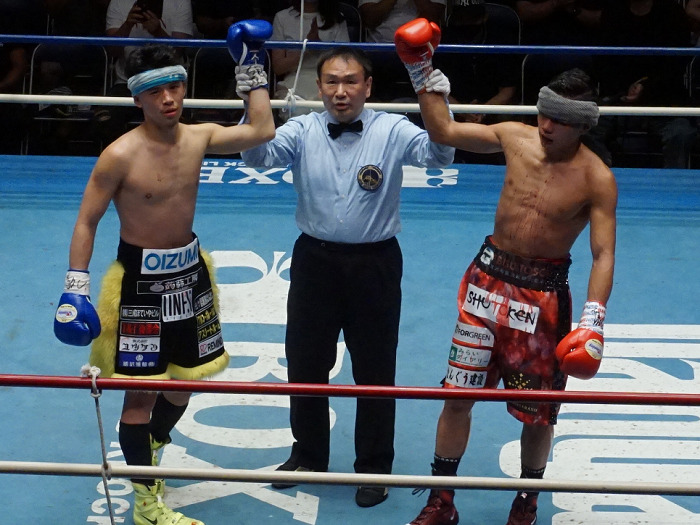 After the medical check-ups by a ringside doctor, Sawada's injury was found to be too severe to continue while the doctor gave the go-ahead to Sadatsune who also bled profusely from his forehead. The fight was then declared draw 23 seconds into the round of the scheduled 10-rounder in accordance with the relevant rule.
Until the stoppage, Sawada controlled the fight as he sent his southpaw foe to the canvas in the middle of the first round with a straight right followed by a left hook to the head. Sawada swarmed over Sadatsune to try to attain a knockout victory only to fail to finish him off.
With the draw, the 33-year-old Sawada's record is 14 wins, including six knockouts, against two losses and two draws, while the 23-year-old Sadatsune stands at 11 wins, including four KOs, against four draws.
The title was left vacant by Yusuke Suzuki of Misako Boxing Gym last January due to a detached retina.