'Monster' Inoue eagerly wants to have fight this year in Japan
Oct 13, 2021 15:20 pm
World Boxing Association ''super'' and International Boxing Federation bantamweight champion Naoya ''Monster'' Inoue of Ohashi Boxing Gym is poised to have a fight in December in Japan, the Ohashi gym released Inoue's interview-style comments on Oct. 12.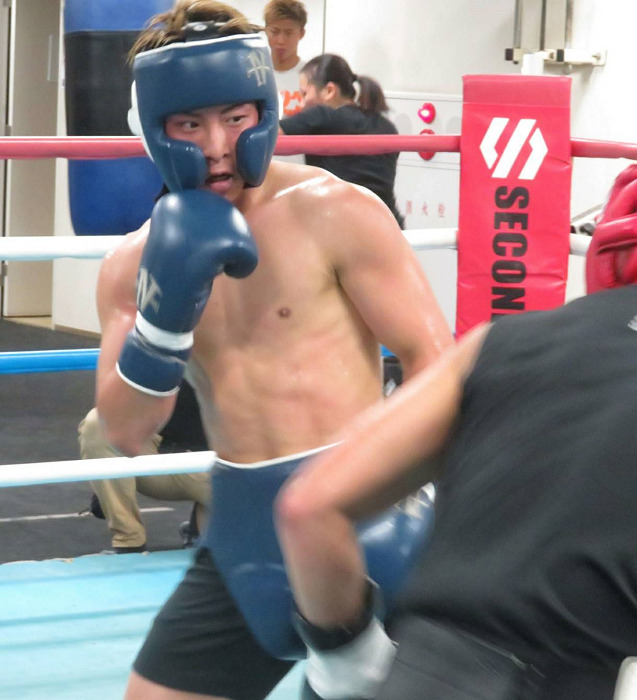 Question: You resumed workout in July. How is your condition?
Answer: I have been doing like before. I started full-fledged sparring sessions this month
Q: You are doing sparring only with orthodox-style partners. Any reason?
A: Yes, basically I have been sparring with orthodox-style partners. But it depends on my next opponent. If he is a southpaw, I will spar with southpaw partners (laugh). I have also been sparring with Hayato Tsutsumi (Toyo University), one of the Tsutsumi amateur boxing brothers. This is to cope with various types of boxers.
Q: What is your plan for the next fight?
A: I have been training so that I can fight within this year in some form.
Q: World Boxing Council champion (Nonito) Donaire (of the Philippines) and World Boxing Organization kingpin (John Riel) Casimero (also of the Philippines) are said to defend their titles, respectively within this year against their designated challengers. Do you also want to fight within this year?
A: Well, if possible, I also want to do it.
Q: Do you want to carry out the title unification fights among the four governing bodies as early as possible?
A: Not in particular. I'm not impatient. My fighting weight is bantamweight. It's my desirable weight.
Q: Do you still stick to bantamweight?
A: It's still not time for me to move up to super bantamweight. Some people say I should move up to super bantamweight if the bantamweight title unification matches are impossible. But I will make decisions for myself.
Q: Have you become more well-muscled?
A: My weight has not changed big. I used to weigh the 62-kg level (137 lb-level). But sometimes I weigh 63 kg. So, within the margin of 1 kg. I normally weigh 62.5 kg at night and 63 kg the following morning. I think the volume of my muscle has been increasing bit by bit because muscle does not increase all of a sudden.
Q: Area you planning to begin efforts to reduce your weight?
A: No. no yet. Instead, I want to get myself into good physical condition through sparring.
Q: You always adjust yourself by setting a final goal and deadline and make a plan to get there in time
A: I would say I am adjusting myself with a fight within this year in mind.
Q: Your next fight may take place in Japan. What do you think?
A: I want to fight in Japan by all means. If I can fight in Japan, it will be my first fight in about two years (since he decisioned Donaire in November 2019).
Q: Of course, you want to fight before spectators, don't you?
A: Considering various circumstances, I think I can fight before spectators. If I can fight in Japan, I want to fight before the audience. I know there still remain various restrictions and the limit of spectators allowed in. If the capacity of a given venue is 10,000, the number will be around 5,000. I also imagine ''ticket competition'' for the fight will become very severe.
Q: Tell us about the number of the current sparring sessions?
A: Around two to three times a week. Each time, I have four to five rounds of sparring.
Q: We think you have improved a lot over the past two years. What sort of thing do you want to display in the next fight?
A: I hope my fans to see the fight by all means. I am confident that they will be satisfied if they see it. Please look forward to my fight. Photo by Ohashi Boxing Gym