Undefeated World Boxing Association light flyweight ''super'' champion Hiroto Kyoguchi of Watanabe Boxing Gym held a press conference in Tokyo on Apr. 28 that he will face 'regular'' champion Esteban Bermudez of Mexico in the title unification match on June 10 (11 Japan time) in Mexico City.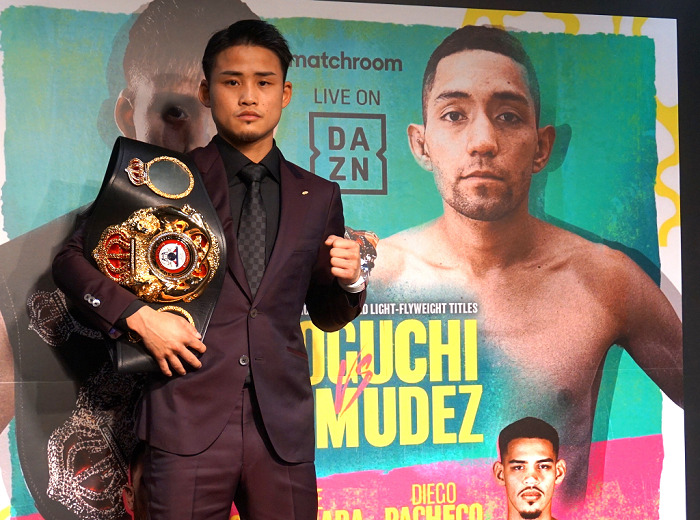 This will be the second straight time for Kyoguchi to defend his title overseas following his fifth-round technical knockout win over Axel Aragon Vega of Mexico in Dallas in the U.S. state of Texas in March last year for his third defense of the title.
Asked about the fact he will take on Bermudez in the latter's home ground, Kyoguchi, 28, said, ''Fighting with Mexican Bermudez, 26, in Mexico City will be the best stage for me.''
''Defending your title overseas is something normal in today's world. You cannot attract a lot of attention unless you accomplish a giant-killing just like (Manny) Pacquiao (of the Philippines) has done.
Defending your title only in Japan is nothing special. In my opinion, successfully defending your title abroad is more meaningful, '' Kyoguchi continued.
Kyoguchi, who was a former International Boxing Federation minimumweight champion, had to postpone the fight for a long time due to his repeated injuries despite the WBA's request for him to carry out the title unification fight. He first fractured his right thumb last September. He then injured his left elbow and left leg.
''True I was depressed and got irritated for some time. But I realized I should face the challenge head-on and do what I can do,'' he recalled those days.
While he hurt his left elbow, Kyoguchi said, ''I concentrated on training my straight (right) punches. I think the degree of accuracy of my right-hand punches has improved.''
According to Kyoguchi, he does not feel any pain in the damaged part now. ''I have already done about 40 rounds of sparring (for the coming fight),'' he added.
Kyoguchi has 15 straight wins, including 10 KOs, while Bermudez has a 14-3-2 win-loss-draw record with 10KOs.