Naoya ''The Monster'' Inoue of Ohashi Boxing Gym, the world bantamweight champion in three of the four major sanctioning bodies, paid a courtesy call on Mito Sato, the mayor of the city of Zama in Kanagawa Prefecture, on July 21 together with his brother Takuma.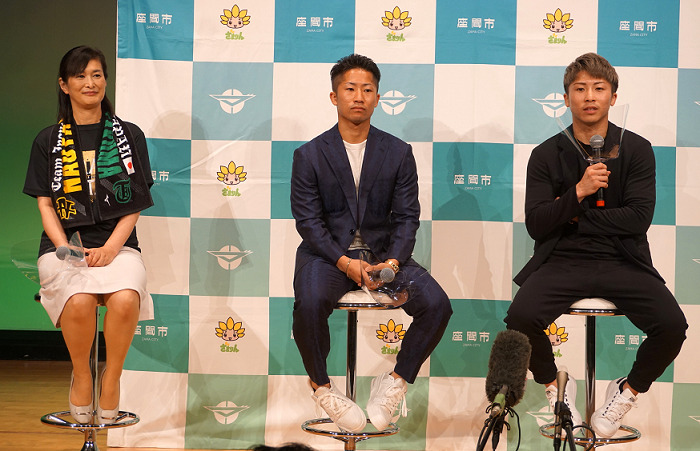 Following the courtesy call, Sato and the Inoue brothers held a kind of talk show at Harmony Hall Zama before some 250 people as Naoya responded to various questions mainly from children on the basic exercise way.
Naoya, who beat Nonito Donaire of the Philippines to unify the latter's title in June, said, ''While I am often asked why I continue living in Zama not in Yokohama, where the gym exists, or in Tokyo, I think returning to my home in Zama marks the end of a day after doing my training in Yokohama and meeting people in Tokyo.''
''That way, I can reset myself the following morning,'' he added.
Though no concrete schedules have been set for the two, Naoya is looking forward with great anticipation to fighting with World Boxing Organization bantamweight champion Paul Butler of the Britain within this year.
If Naoya wins the fight, the mayor said, ''We will see to it that we can have a parade to share his joy with us citizens here by paying a careful attention to the COVID-19 infection.''
Takuma, who owns WBO's Asia-Pacific super bantamweight and Japanese super bantamweight titles, said, ''I am determined to win a world title again so that I can be on an equal footing with my brother.''