Ginjiro Shigeoka kayos Cuarto, wins IBF interim world minimumweight title in Tokyo
Apr 17, 2023 9:07 am
The International Boxing Federation's fourth-ranked minimumweight Ginjiro Shigeoka of Watanebe Boxing Gym, overcoming the opening round knockdown, knocked out third-ranked Rene Mark Cuarto of the Philippines in the ninth round and won the IBF interim world minimumweight title in Tokyo on Apr. 16.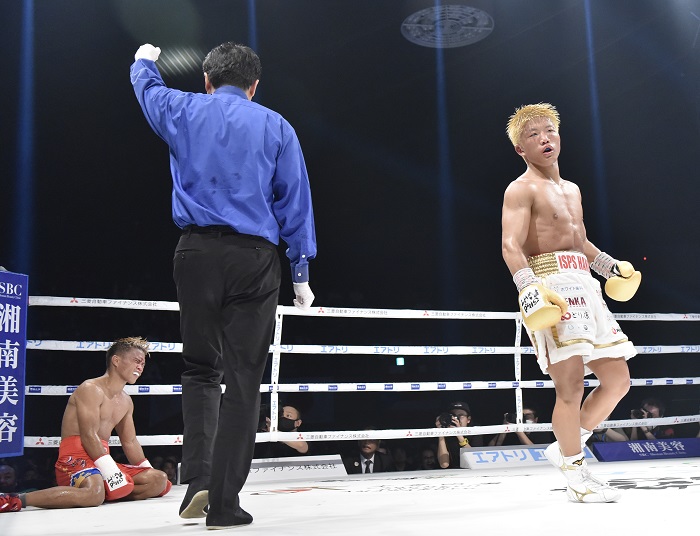 The end of the scheduled 12-rounder at Yoyogi National 2nd Gymnasium came 2 minutes and 55 seconds into the round when the left-handed Shigeoka dropped Cuarto to the canvas with a left hook to the body.
While Cuarto, a former IBF minimumweight champion, got up to beat the referee's count, Shigeoka, 23, swarmed all over him and decked his gutsy opponent with another left hook to the body. Though the 26-year-old Cuarto struggled to his feet, the referee's count had tolled 10.
Shigeoka also scored a knockdown in the seventh stanza with a straight left to the body for a mandatory eight count.
In the first round, Shigeoka was put on the seat of his pants immediately before the end of the round with a straight right to the head. But he got up quickly and was saved by the bell.
Both exchanged fierce blows with Cuarto bleeding from above the left eyelid due to an accidental head butt he suffered in the second round.
Shigeoka faced Cuarto instead of IBF minimumweight champion Daniel Valladares of Mexico because Valladares is out of action as he is said to be suffering from his left ear problems after his title defense against Shigeoka on Jan. 6 in Osaka, and the IBF agreed to install an interim champion. The fight was declared no contest.
After the fight, Shigeoka said, ''I was knocked down for the first time in my career. It was a precious fight. I heaved a sigh of relief now.''
Undefeated Shigeoka is entitled to face Valladares within the next 90 to 120 days in accordance with the relevel rule.
With the win, Shigeoka extended his unbeaten streak to nine, including seven KOs, with one no contest.
For his part, Cuarto impaired to 21-4-2 win-loss-draw tally with 12 KOs.
The fight was held as part of the event dubbed ''3150FIGHT Vol. 5'' promoted by Kameda Promotion Co. headed by former three-division world champion Koki Kameda.
Shigeoka's elder brother Yudai Shigeoka of Watanabe gym knocked out Wilfredo Mendez of Puerto Rico and won the World Boxing Council interim world minimumweight title in the main event.