Irie wins women's featherweight gold medal, 1st such feat for Japanese female boxing
Aug 03, 2021 16:03 pm
Japan's Sena Irie pounded out a 5-0 unanimous decision over Nesty Petecio of the Philippines in the women's featherweight final on Aug. 3 and won an Olympic gold medal, becoming the first ever Japanese female to achieve the feat and the third Japanese to win the Olympic gold – late bantamweight Takao Sakurai in the 1964 Tokyo Olympics and middleweight Ryota Murata in the 2012 London Olympics.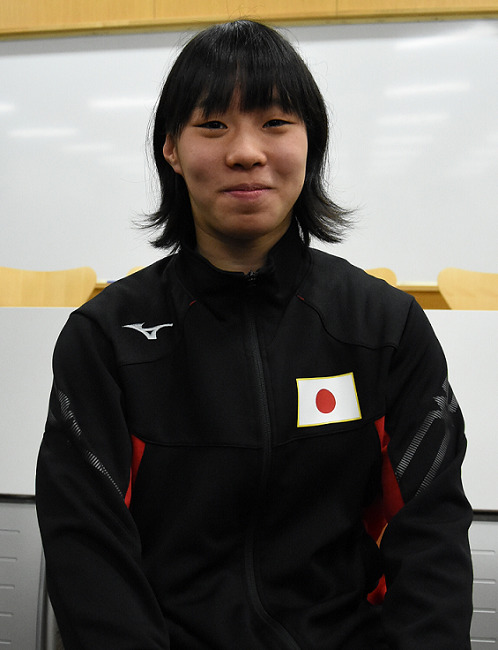 Fighting at the Ryogoku Kokugikan Sumo Arena, the 20-year-old Irie started first by sticking out left jabs against Petecio,whom Irie had fought three times going into the day's bout by winning two of them.
The 29-year-old Petecio, who mostly fought as an orthodox style, changed into a southpaw style from the second round to try apparently to confuse Irie. But the young Japanese, using her footwork, moving side to side while landing counter rights.
They fought almost evenly after ending the second round as both boxers exchanged fierce punches. While Petecio connected with left-right combinations in the third round, Irie did not allow her to take control of the bout as she landed body shots and counter punches.
After ending the fierce battle, the judges' decision was declared unanimous for Irie as one judge scored the bout 30-27 and the remaining four also had it 29-28.
It was the first time for a Japanese female boxer to vie for an Olympic medal ever since the women's boxing was launched in the 2012 London Olympics.
After the bout, Irie said, ''I cannot believe it. I don't think this is happening. I still feel like I am dreaming. I have to pinch my cheek. I want to gaze at the medal closely. I want to thank my parents and others who have supported me for long time.''