Undefeated Andy Hiraoka of Ohashi Boxing Gym captured the World Boxing Organization's Asia-Pacific super lightweight title as well as the Japanese title of the same weight division as he stopped Jin Sasaki of Hachioji Nakaya Boxing Gym in the 11th round in an exciting slugfest on Oct. 19 at Tokyo's Korakuen Hall.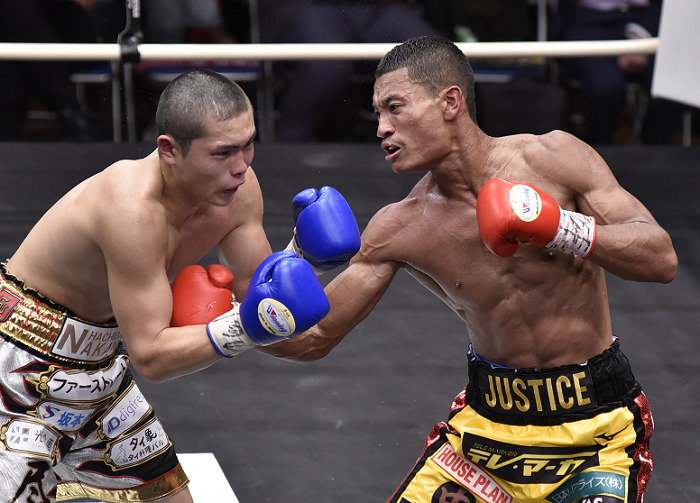 The 20-year-old Sasaki, who failed in his weigh-in held in the preceding day by weighing 1.8 kgs (3.97 lbs) above the division's weight limit of 63.50 kgs (140 lbs), was disqualified for the title. But the fight itself was held as he managed to tip the scales at 68.1 kgs at 5 p.m. on the fight day, clearing the permissible weight increase rate of 8% of the class limit.
Southpaw Hiraoka, 25, who is ranked first in the Japanese division, got off to a good start by showing rapid combination blows. But the second-ranked Sasaki appeared nothing daunted, showing provocative posture while throwing his vaunted left hooks. Both fought in their own way in the first five rounds with Hiraoka slightly getting the better of Sasaki.
While Sasaki, also undefeated, showed a sign of fatigue from the sixth round, Hiraoka landed a right hook to the head followed by a straight left soon into the seventh round, sending Sasaki down on all fours. Sasaki struggled to his feet only to fall down again with Hiraoka's right hook.
But the gusty Sasaki, showing fancy footwork and clinch while letting out a roar, managed to survive the round.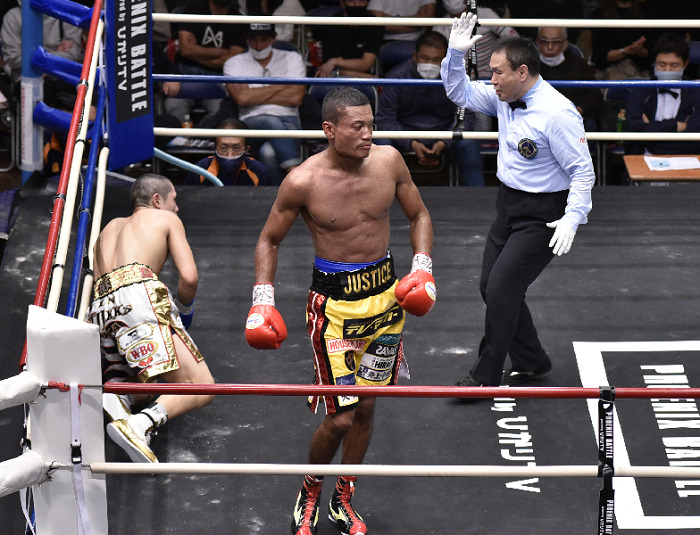 In the eighth stanza, the renewed Sasaki threw hard punches to Hiraoka, who avoided most of them while landing left hooks to the body to try to sap Sasaki's strength.
In the 11th round, while Sasaki got off to a good start by throwing punches, Hiraoka, who is ranked sixth by the International Boxing Federation's world rankings, sent Sasaki to the canvas with a short right uppercut. While Sasaki wobbled to his feet, the referee waved off the fight.
With the victory, Hiraoka extended his winning streak to 18, including 13 KOds, while Sasaki fell to a 11-1 win-loss record with 10 KOs.