This year's Sumida boxing festival will be held on May 20 at the sub-arena of the Sumida City Gymnasium in Tokyo with many current and former champions attending, according to organizers.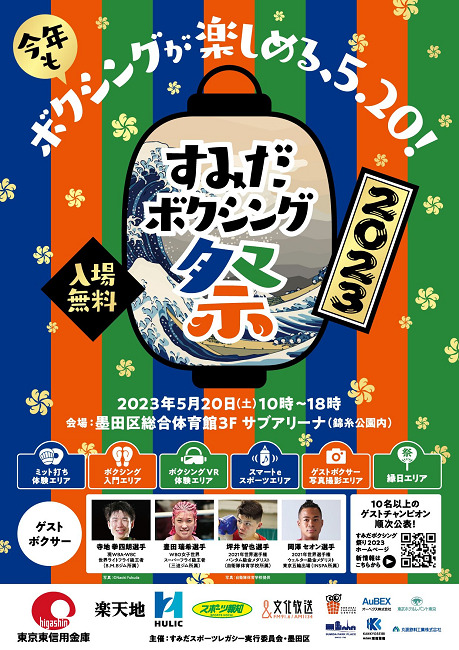 The annual event envisages enhancing the popularity of the sport in general and will open to public between 10 a.m. and 6 p.m. on the day, the organizers said.
Just like in the preceding event, anybody who wants to experience the exercise of hitting a mitt held by a top-notch boxer or a trainer can participate in addition to a commemorative photo session.
Also, a talk show among World Boxing Association and World Boxing Council light flyweight champion Kenshiro Teraji of B.M.B Boxing Gym, World Boxing Organization female super flyweight champion Mizuki Hiruta of Misako Boxing Gym, 2021 world welterweight amateur champion Sewon Okazawa of INSPA Group and Tomoya Tsuboi of the Self-Defense Forces, who also won the world bantamweight amateur title in the 2021 event, will be held, they said.
By the same token, participants can also experience the oft-quoted virtual reality simulated experience, according to the organizers.
The participating boxers and trainers will include former three weight-division world champion Akira Yaegashi, a current trainer of the Ohashi Boxing Gym. Also participating from the gym will include WBO's Asia-Pacific super lightweight champion Andy Hiraoka, WBO's Asia-Pacific super bantamweight ruler Kazuki Nakajima, Oriental and Pacific Boxing Federation super bantamweight kingpin Yoshiki Takei, OPBF flyweight champion Taku Kuwahara, Japanese featherweight champion Keisuke Matsumoto and highly touted featherweight Taiga Imanaga.
Those from Watanabe Boxing Gym will include WBC minimumweight interim champion Yudai Shigeoka and his brother and International Boxing Federation minimumweight interim kingpin Ginjiro Shigeoka.
Former IBF world super featherweight champion Kenichi Ogawa and former WBO light flyweight kingpin Shokichi Iwata will represent Teiken Boxing Gym, while former many-time regional lightweight champion Shuichiro Yoshino, Japanese super lightweight ruler Homura Fujita and former Japanese super flyweight kingpin Kenta Nakagawa will represent Misako Boxing Gym.
By the same token, Former WBO minimumweight champion Ryuya Yamanaka of Shinsei Boxing Gym and world-ranked featherweight Reiya Abe of KG Yamato Boxing Gym are also expected to participate. Last but not least, former Japanese featherweight champion Hinata Maruta of Morioka Boxing Gym will also take part, they said.