Former amateur star Hayato Tsutsumi of Shisei Boxing Gym expressed his inner fighting spirit at an online press conference on July 5 that he is determined to show the kind of fighting spirit fans at Tokyo's Ota City General Gymnasium will not forget on July 13.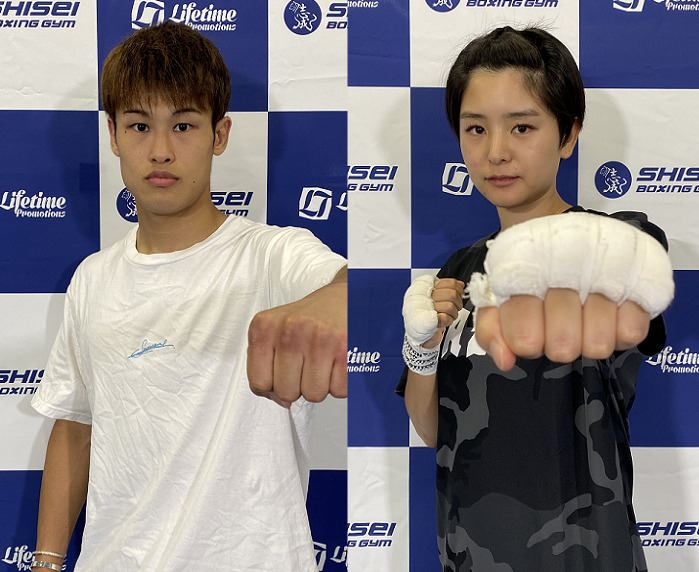 He will make a professional debut as a featherweight at the gymnasium as an undercard of the World Boxing Organization super flyweight title match between champion Kazuto Ioka of the gym and top-ranked challenger Donnie Nietes of the Philippines.
The 22-year-old Tsutsumi will face Jhon Gemino of the Philippines in an eight-round bout, an unusual treatment for an amateur boxer's professional debut, and said, ''Since my opponent has a punching power and technique, I cannot lose my concentration throughout the bout.'' Normally, a top-class amateur boxer turns pro with a class-B license and makes a professional debut in a six-round bout. The 30-year-old Gemino has 23 wins, including 13 knockouts, against 13 losses and a draw.
Tsutsumi won the all-Japan amateur championship in the bantamweight division in 2017 for the first time as a high-schooler since Naoya ''The Monster'' Inoue. He was also voted MVP in 2016 and 2017 in the amateur category.
After entering Toyo University, he was aiming at taking part in the 2021 Tokyo Olympics only to fail in the Asia-Oceania qualifying round in the featherweight division. He captured as many as 13 amateur titles, including six as a high schooler.
Meanwhile, Satsuki Ito, a former top women's amateur boxer, also told reporters online that she will make her professional debut from the gym by fighting with Saowaluk Nareepangsri of Thailand in a six-round bantamweight fight.
It will be the first fight in six years as the 31-year-old Ito, the former All-Japan women's light flyweight titlist, last fought when she lost in the bantamweight final of the All-Japan Championships in 2016 when she was working for the Japan Self-Defense Forces Physical Training School.
Ito said, ''True it's been a while since I last fought, but it won't be a problem.'' She has been training at the gym to become a professional boxer since last August after retiring from the JSDF. The 28-year-old Saowaluk has 11 wins, including five KOs, against 18 losses.  Photo by Shisei Boxing Gym