Undefeated World Boxing Association light flyweight ''super'' champion Hiroto Kyoguchi of Watanabe Boxing Gym, who successfully defended his title for the third time by stopping Axel Aragon Vega of Mexico on March 13 (14 Japan time) in the U.S. state of Texas, told the press the same day online, ''I am relieved (to win the fight). Although I wanted to deck him completely, I had to settle for my performance today because I was able to win in the U.S.''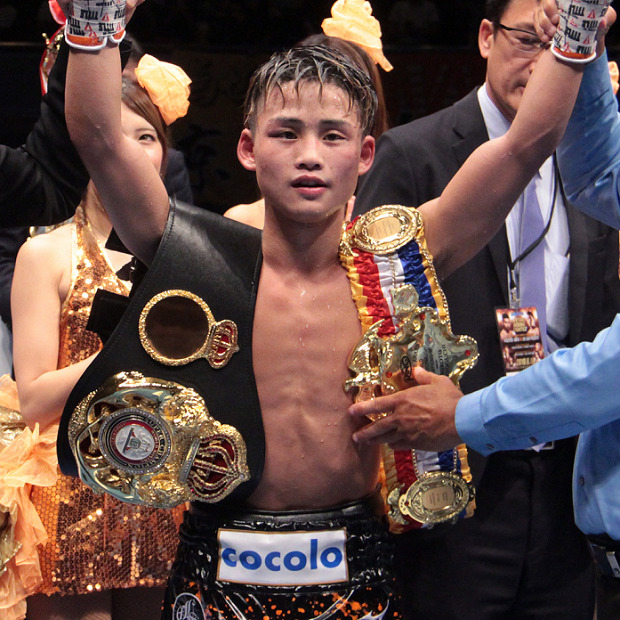 The 27-year-old Kyoguchi retained the title as Vega severely hurt his right hand when he hit Kyoguchi's head with his right in the fifth round and had to abandon the fight.
Commenting on his opponent, Kyoguchi said, ''My opponent fought in a crouching position more than I expected. He had a good body shot and a nice uppercut. Kyoguchi explained the moment when he was forced to the ropes in the second round by saying, ''I tried to cope with the onslaught calmly and tried to change the pace by using jabs.''
Kyoguchi, utilizing his jabs from the third round to begin to control the bout, had to accept the fact that Vega, ranked 10th in the division, suddenly turned his back on Kyoguchi while crouching down to the ropes when he injured his right fist, said, ''I failed to show what I have. I was able to display half of what I have now. From now on I will show boxing fans the world over what I have at present.''
About the sudden ending of the fight, Kyoguchi said, ''That's part of boxing,'' adding the fight reminded him of the bout with Hekkie Budler of South Africa in December 2018, in which Kyoguchi won the title for his second world crown as Budler could not answer the bell for the 11th round.
It was Kyoguchi's first fight after sealing the contract with sporting event promotions company Matchroom Boxing of England last December.
Concerning the fact that Edward John Hearn, a promoter of Matchroom, is placing high hopes on Kyoguchi's future, he said, ''I will do my best to live up to his expectation.''
Asked about his intention to conquer heavier weight division(s), Kyoguchi said, ''I hope to remain as a world champion at a weight believed to be my best. Eventually, I hope to win world title(s) in the heavier weight division(s).'' But he hinted at becoming the best light flyweight champion in the world for the time being.