Undefeated World Boxing Association light flyweight ''super'' champion Hiroto Kyoguchi of Watanabe Boxing Gym, who retained his title for the third time on March 13 (14 Japan time) in Dallas in the U.S. state of Texas following the sudden retirement of his challenger Axel Aragon Vega of Mexico in the fifth round due to a hand injury, returned home on March 15.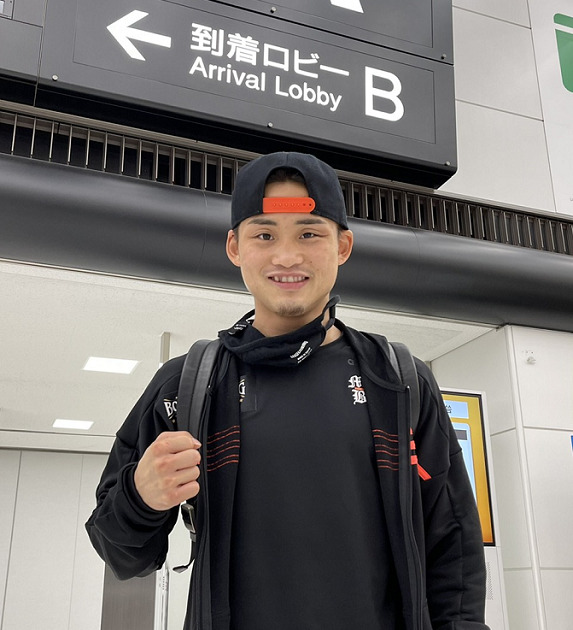 The 27-year-old Kyoguchi, who looked tired due to an airline delay at the airport in Dallas and a lack of sleep, spoke to reporters online after the arrival at the Narita International Airport on the outskirts of Tokyo, said, ''I was able to see my opponent's punches well and was able to avoid solid pinches.''
Although Kyoguchi won via a fifth-round technical knockout, one of the three judges scored the fight (for the first four rounds) 39-37 in favor of Vega while the remaining two having it even at 38-38. Kyogichi said, ''The judge (who scored in favor of Vega by 2 points) put emphasis on Vega's body shot because objectively speaking those punches were easy to see. I was not hurt because I was able to discern the punches.''
''I am not satisfied with the fight because I could not do myself justice. I hope to live up to the expectations (of my fans) more next time,'' he added.
About the fact the Vega hit the side of the head of Kyoguchi, which caused Vega's severe fist injury, Kyoguhi replied, ''If I was hit in the temple, I would have been hurt. Having my opponent hit on the head is one of the techniques.''
Commenting on the fact that some overseas boxing sites said half jokingly ''Kyoguchi's head is made of 'titanium,''' Kyoguchi said wearing a bitter smile, ''I am not proud of that.''
Kyoguchi's father is suffering from a throat cancer, and March 15 was the day when he received an operation, Kyoguchi said, adding, ''I really hoped him to persevere the operation, my victory would have served as a morale booster'' for him. He appeared relieved. Photo by Watanabe Boxing Gym