World Boxing Association ''super'' and International Boxing Federation bantamweight champion Naoya ''The Monster'' Inoue of Ohashi Boxing Gym started full-fledged sparring on May 2 with a Filipino partner in preparation for his showdown with World Boxing Council bantamweight ruler Nonito Donaire of the Philippines on June 7 at Saitama Super Arena in Saitama Prefecture.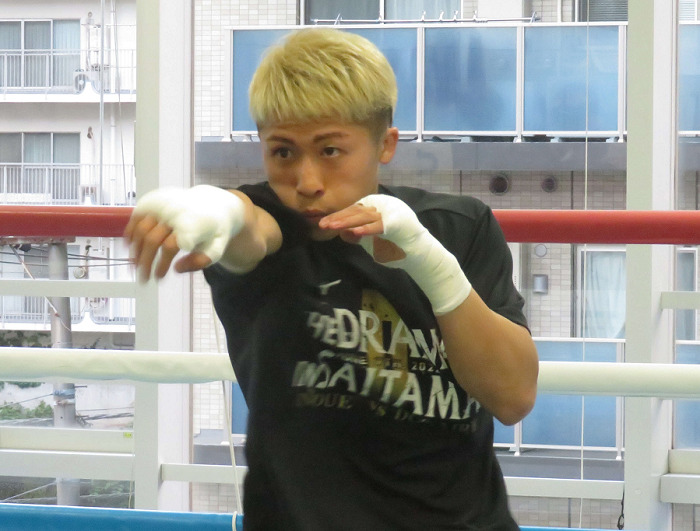 The 29-year-old Inoue went five rounds with Oriental and Pacific Boxing Federation super bantamweight champion Pete Apolinar, 27, at the gym. the first such full-fledged sparring with a sparring partner from abroad. In the past, Inoue has done sparring mostly with Japanese partners due to rampant spread of COVID-19, which appeared to have subsided a bit recently.
Apolinar's compatriot and the 26-year-old KJ Cataraja, the World Boxing Organization's 10th-ranked super flyweight, was also invited as a sparring partner.
Besides the two, the 30-year-old featherweight Genesis ''Kashimi'' servania of the Philippines, who has been fighting out of Japan's Kashimi Boxing Gym for some time, has also been serving as Inoue's sparring partner since this April.
The following are the details of the question-and-answer session sent by the Ohashi gym.
Question: Do you feel fatigued from the physical training and conditioning last week (in Nagano Prefecture, central Japan)?
Answer: I think I have already recovered.
Q: You have gone through a training session under the guidance of the gym's trainer Akira Yaegashi (a former triple world champion). Any comments?
A: I think I have done the same thing before. Mr. Yaegashi and I are anticipating results more than a half year later. True when I started training under Mr. Yaegashi, I had the (next month's) fight with Donaire in mind. But what we are looking ahead is the probable possibility of my moving up in weight. We started training (under Mr. Yaegashi) with that long time perspective in mind.
Q: You started sparring today. Any comments?
A: Since I sparred with a partner from abroad for the first time in a long time, I am happy and feel great.
Q: You have sparred mostly with Japanese partners in the past two years, haven't you?
A: I get excited in my sparring with partners from abroad. Since regulations concerning coronavirus infection have been eased. I am happy that we can bring in these sparring partners from abroad, which is normal practice.
Q: What is the main theme of your sparring sessions?
A: The same as usual. I hope I can end the sparring sessions without any mistake. Since my opponent this time is Donaire, I will try not to get hit by left hooks and other punches by imagining a fight (with Donaire).
Q: You seem to get motivated automatically.
A: Yes, I don't need to get motivated intentionally. Rather I get motivated automatically.
Q: Your two sparring partners from (the Philippine) have had an experience of visiting Japan once, haven't they?
A: I don't remember my sparring with Apolinar at all. In those days (before the occurrence of COVID-19), I used to have sparred with about three partners from abroad even during my normal training period and another partner before three to four months before my fight. But not remembering my sparring partner well will make me refresh. I think KJ (Cataraja) is an able boxer.
Q: Do you have a concrete fight plan vis-a-vis a fight with Donaire?
A: Yes. I am thinking about it. Since we once fought, I think my fight plan comes up in some vague way.
Q: The special ringside tickets (at the arena) have been sold out. What do you think?
A: I haven't thought about that aspect of the fight too much. Of course, I want to fight before capacity crowd.