Naoya ''The Monster'' Inoue of Ohashi Boxing Gym, who holds the World Boxing Association ''super,'' International Boxing Federation and World Boxing Council bantamweight titles simultaneously, has said he will not let World Boxing Organization bantamweight champion Paul Butler of Britain hit him directly in their title unification fight on Dec. 13 at Tokyo's Ariake Arena, the gym quoted Inoue as saying on Nov. 24.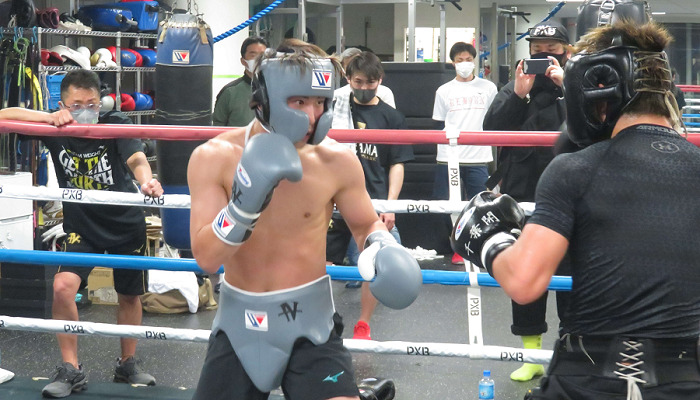 After having a six-round sparring session with Oriental and Pacific Boxing Federation bantamweight champion Kai Chiba of Yokohama Hikari Boxing Gym, the 29-year-old Inoue said, ''The main theme today was not to be hit directly, and I ended the sparring as I planned, though, I was ''grazed'' by his punches sometimes during the six-round sparring session with him. But those were the punches which I knew they were coming.''
The following are the summery of the ensuing question-and-answer session compiled by the gym.
Question: In the past, your sparring session basically lasted four rounds at one time. Is the long sparring session this time is intended especially for your fight with Butler?
Answer: Yes. I had two separate six-round sparring sessions last week in addition to a 10-round session. I had only four rounds of sparring with (former three-division world champion) Kosei Tanaka (of SOUL BOX Hatanaka Boxing Gym).
Q: Tell us about your plan on your sparring schedule from now on?
A: I will spar with Kenta Yamakawa (of Ohashi gym) on Saturday. Depending on the courses of the physical training (conducted by the gym's trainer Akira Yaegashi), I will have more sparring sessions. It will depend. If my past experience is any guide, I don't have a sparring session about twos weeks before a fight. So, my sparring on Nov. 28 would be the last this time around. I suppose I will have touch sparring with (my stablemates) Taku Kuwahara and Takuma (Inoue) thereafter.''
Q: What is your most important thing at present?
A: My weight reduction. I don't think I will need to do hard training. The management of my physical condition would be important.
Q: Are you doing something new in this respect?
A: I asked Mr. Yaegashi to ''prepare'' some kind of vitamins. As for amino acids, I will use product of SAVAS (which is produced under the aegis of Meiji Co.)
Q: Your will turn 30 next year. Any comment?
A: While I will be 30, it's still a big deal. I will pay careful attention to my health.
Inoue has 23 straight wins, including 20 knockouts. For his part, the 34-year-old Butler has a 34-2 win-loss record with 15 KOs.
Photo by Ohashi Boxing Gym