Boxing event open to public held for 1st time after COVID-19 suspension
Jul 20, 2020 16:53 pm
Some 350 spectators were admitted to watch the boxing matches at the Ishikawa Multipurpose Dome in Uruma in Japan's southernmost prefecture of Okinawa on July 19, the first domestic boxing event open to the public, even partially.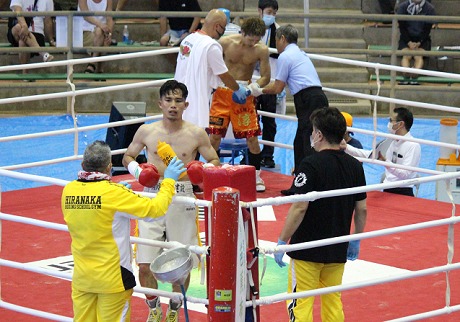 After nearly five-month suspension due to the novel coronavirus pandemic, the day's matches ended without any trouble. The dome has a capacity of 3,500 people.
Tsuyoshi Yasukochi, secretary general of the Japan Boxing Commission, said after the matches, ''I can now heave a sigh of relief since all the participating boxers ended their bouts without suffering injuries. At first, I was a little bit worried because the day's event was the first event open to the public. But a fight promoter and the persons concerned did their best to coincide with the guidelines for the event.''
A total of four bouts — one eight-round bout, one six-round bout and two four rounders –were held.
While boxing matches resumed on July 12 in Aichi Prefecture, central Japan, and on 16 at Tokyo's Korakuen Hall after the long-COVID-19-caused suspension, both were held as closed-door events.