Yaoita fails to become world champ, many fans remember his boxing
Apr 13, 2021 10:06 am
Who do you think is the best Japanese flyweight boxer in history?
Well, it is difficult to pinpoint one boxer because Japan has had many world flyweight champions ranging from Yoshio Shirai in the 1950s to more recent Junto Nakatani.
Masao Oba, who died in 1973 due to an automobile accident while he was an active WBA world champion, is also regarded as one of the best flyweight boxers in Japan.
Likewise, legendary Masahiko ''Fighting'' Harada briefly held the world flyweight crown by knocking out Pone Kingpetch of Thailand in 1962 although his heyday was when he was the world bantamweight champion.
The 112-pound flyweight was the lightest weight division until the light flyweight (junior flyweight) class was set up in 1975 below flyweight, and then came to be ''sandwiched'' as super flyweight (junior bantamweight) was established in 1980 between flyweight and bantamweight. In addition, minimumweight was created in 1986 below light flyweight as the sport's lightest weight division.
Given the creation of these finely differentiated divisions, the recent world champions have been considered ''lucky'' since ''smaller flyweights'' have sought world titles in the lower-weight divisions and ''bigger flyweights'' have looked for the pinnacle of super flyweight because there is only 10-pound difference between the 105-pound minimumweight and 115-pound super flyweight.
But scarcity value, which is the most important thing in any sports, has dropped tremendously, which has eventually decreased the popularity of boxing.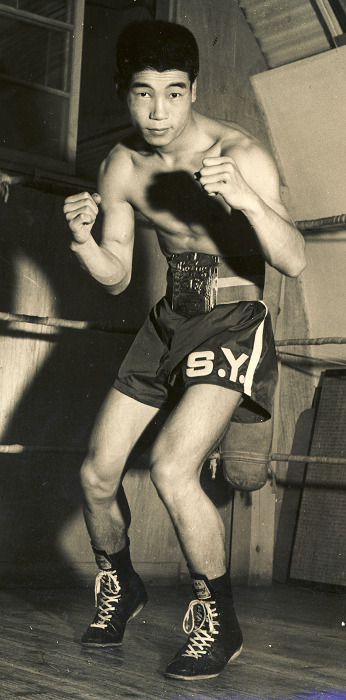 In the days when OPBF flyweight champion Sadao Yaoita was fighting in the mid-1950s and the early 1960s, he was fighting against boxers ranging from the minimumweight to super bantamweight (junior featherweight) in accordance with today's standards.
He would definitely have won a world title or titles if he had been fighting today because there are now four major world governing bodies (WBA, WBC, IBF and WBO) instead of one when Yaoita was fighting.
Yaoita was knocked out by champion Pascual Perez of Argentine in the 13th round of the scheduled 15-rounder in a world flyweight title match in November 1959 although he scored a knockdown in the second round. Perez, who won the title from Shirai in 1955, could have fought as a minimumweight by today's standards considering his small physical frame.
But Yaoita came back quickly and fought many boxers not only in the flyweight but also in other weight divisions in his quest for another world title challenge.
Yaoita fought against Eder Jofre of Brazil, later known as the ''Golden Bantam,'' in a non-title fight in Sao Paulo in July 1961 and was knocked out in the 10th and the final round, which goes to show he has a tremendous technique and speedy footwork considering Jofre's devastating punching power.
But Yaoita also displayed his power himself when he knocked out then OPBF junior featherweight (super bantamweight) champion Haruo Sakamoto in a nontitle fight with a single left-hook counter in January 1962, which went to show a technique-based KO is like an art.
In March that year, Yaoita, then the world No1-ranked flyweight contender, faced the world top-ranked bantamweight Jose Medel of Mexico in a highly touted nontitle bout although he dropped a close decision. But their ''battle of techniques'' enchanted many fans.
All in all, though Yaoita could not become a world champion, he was a lucky person because he fought when Japan's boxing was a major sport like baseball and sumo, and a man in the street who did not know too much about boxing knew at least his name.  Written by Masaya Kokubu, free writer