World Boxing Organization flyweight champion Junto Nakatani of M.T Boxing Gym left for Tucson in the State of Arizona, southern part of the U.S. near Mexico, for his first defense of the title he captured last November against top-ranked Angel Acosta of Puerto Rico on Sept. 10 (Sept. 11 Japan time).
Before his departure from Tokyo's Haneda Airport, the 23-year-old Nakatani told WOWOW Inc., a Japanese satellite television company which will cover the fight, his determination of his defense against the mandatory challenger. The question-and-answer session is as follows: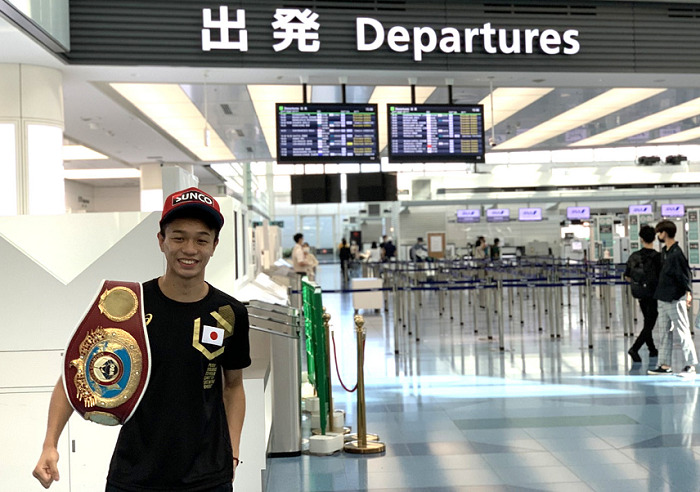 Question: Could you tell us about your state of mind right now?
Answer: Since I have trained well in Japan, I will put a finishing touch on it in the U.S. I am looking forward with great anticipation to fighting in the U.S.
Q: What sort of training did you do in Japan?
A: I was able to do meaningful training since I did 12-round sparring sessions (at one time) a few times.
Q: What about your weight control?
A: I am some 5 kgs (about 11 pounds) above the flyweight limit (of 50.8 kgs or 112 lb). I will reduce the weight without fail.
Q: What sort of specific training do you have in mind in the U.S.?
A: I think I can do sparring sessions one week before the fight. Then, I will try to manage my fatigue in the last one week for the fight
Q: What about your food in the U.S.?
A: I will bring my rice cooker as I will cook for myself for my weight reduction.
Q: When do your family members come to the U.S.
A: They are scheduled to come the day before my weigh-in.
Q: Who will come?
A: All of my family members will come.
Q: All of the family members?
A: Yes.
Q: You said in our previous interview you hope to make many people know your name through this overseas fight. What sort of thing do you think will be needed to achieve that?
A: I think knocking out my opponent is the most effective way to realize that. Of course, I have to win it first firmly.
Q: Your opponent Acosta is known in Japan (because he fought in Japan). What kind of impression do you have about him?
A: As you can see from his record, he packs punch. Particularly, I have to be careful about the earlier rounds of the fight so as to avoid his punch. The, I hope I can concentrate on my style of boxing.
Q: What sort of thing or things do you think you are superior to Acosta?
A: Fighting at a distance is my favorite tactic. I think I am superior to him in that respect. But I think Acosta will try to get inside, I hope I can prevent him from doing that and engage myself in my kind of boxing.
Q: We understand you first studied and practiced boxing overseas. Now, what kind of difference are there between doing boxing in Japan and abroad?
A: Basically, overseas training puts more emphasis on sparring sessions, which cannot be said in Japan. Anyway, this is my first fight abroad, I hope I can display both things in the fight.
Q: You said before you have watched a real fight in the U.S. What sort of difference did you notice between Japanese fights and those in the U.S.?
A: At that time, the capacity crowd fans went wild. I hope I can ''enjoy' that sort of thing in my coming fight.
Q: Supposing that you clear the fight successfully, what kind of aim do you have as a flyweight boxer?
A: Fight at flyweight is becoming difficult. But I want to unify the flyweight titles. If that is difficult, I hope I can continue to defend my title against strong challengers.
Q: Can you mention specific name?
A: I want to fight World Boxing Council champion Julio Cesar Martinez of Mexico
Q: Thank you very much. Could you show your enthusiasm once again?
A: I am determined to go through the Sept. 11 fight with a knockout victory and defend the title. I hope your big rooting.
Q: So, we can expect to see the new Junto Nakatani. Any comment?
A: I practiced a lot by throwing punches more than usual, which I hope will lead to me knocking out the opponent.
Q: You said earlier your favorite boxing is fighting at a distance. But this time, the situation will be different.
A: Fighting at a long distance or at close range. The fight can go either way. I don't want to fight Acosta's fight. So, depending upon the situation, I will judge and build up my style of boxing.
Q: We know this depends on the deployment of the fight. But what kind of punch do you have in mind?
A: Straight lefts. Yes, I hope to knock him out with straight lefts.
Q: Any specific reason for that?
A: In my previous fight, I was able to land straight lefts in the first round, which allowed me to pick up my pace. I want to do the same in the upcoming fight as well.
The 23-year-old Nakatani is undefeated in his 21 fights, including 16 KOs, while the 30-year-old Acosta has a 22-2 win-loss record with 21 KOs.