Naoya ''The Monster'' Inoue of Ohashi Boxing Gym, who holds the World Boxing Association ''super,'' International Boxing Federation and World Boxing Council bantamweight titles simultaneously, had a 10-round sparring session at the gym on Nov. 19 in preparation for his final title unification fight with World Boxing Organization bantamweight champion Paul Butler of Britain on Dec. 13 at Tokyo's Ariake Arena.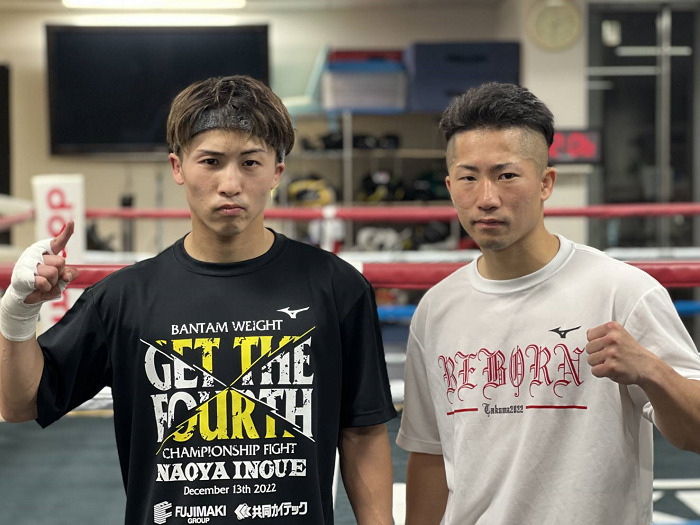 According to the gym, the 29-year-old Inoue held the sparring chiefly with Oriental and Pacific Boxing Federation flyweight champion and his stablemate Taku Kuwahara, 27.
After the 90-minute training at the gym, in which his younger brother and former WBC bantamweight interim champion Takuma Inoue and those who will enter the Dec. 13 event, also took part, said as follows:
Question: Have you started your weight-reduction effort since your fight is less than a month away?
Answer: At this point in time, I just started reducing the weight consciously to a certain extent.
Q: You have changed your way of training, haven't you?
A: I included my training at home in addition to the training at the gym.
Q: The fourth floor of the gym is used exclusively for boxers entering the event while you are training in Mr. Ohashi's judgement. What do you think?
A: It's very encouraging because we can monopolize the gym when other trainees and boxers are kind enough to give over space to us.
Q: What about your strategy against the fight with Butler?
A: I'm in the midst of that. Before, I trained myself to strengthen my physical conditions. But from now on, I will make a minor adjustment with only Butler in mind because I have less than a month before the fight.
Q: Have you changed your sparring partners?
A: From this week, I started to spar chiefly with Kuwahara because his fighting style is very similar to that of Butler as far as I know.
Q: What sort of image do you have about the fight?
A: I have a slight idea of my strategy after my training today.
Q: Tell us about your specific sparring this week.
A: I did a 10-round sparring session on Monday. I had six round touch sparring with Takuma on Tuesday. I once again had a 10-round sparring session on Thursday. I was so tired on Friday that I did only physical training to get my heart rate up.
Q: You did more than eight rounds of sparring at a time for the first time in a while, didn't you?
A: Yes. I had a backache after my fight with Petchbarngborn (Kokietgym of Thailand in September 2016). Because of that, I purposely avoided doing many rounds of sparring at a time. But I did 10 rounds of sparring on purpose this week. I took a rest yesterday and did my adjustment training today. I will step up the intensity of training from next week
Q: Why did you do long-round of sparring this time?
A: That's because my strategy against the Butler fight. I think the coming will become a long fight. I think I will take the initiative and fight a long round. To my way of thinking, it will be a fight similar to the one with (Jason) Moloney (of Australia in which Inoue knocked him out in the seventh round in October 2020). I think Butler will move more than Molony as I think he will aim at fighting 12 rounds (for a decision victory).
Q: Tell us about your motivation about the Butler fight.
A: I am determined to win the upcoming fight. Therefore, I cannot make any easy mistakes. I hope to regain the No. 1 position in the pound-for-pound rankings in the world. To that end, I have to show the fight worthy of that position. I will build up the fight so as to win my fourth world championship belt.
Inoue has 23 straight wins, including 20 knockouts. For his part, the 34-year-old Butler has a 34-2 win-loss record with 15 KOs.
Photo By Ohashi Boxing Gym