Former K-1 WORLD GP super bantamweight champion Yoshiki Takei of Ohashi Boxing Gym passed a test for a class B license (six-round bout) as a professional boxer on Jan. 8 and is expected to make a debut on March 11, according to the Yokohama-based gym in Kanagawa Prefecture.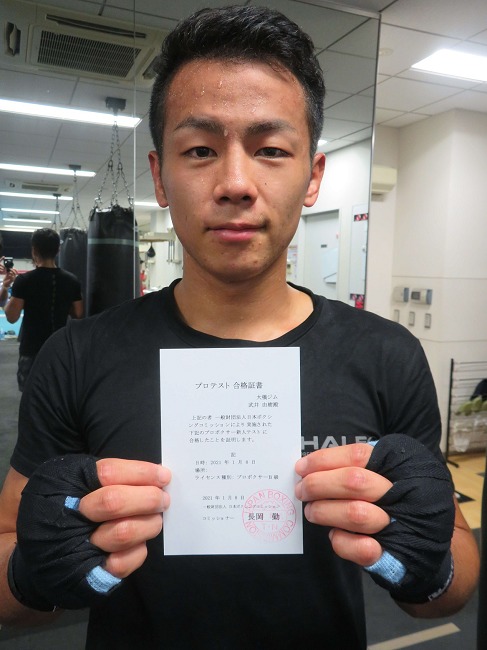 While such test is usually held at Tokyo's Korakuen Hall, he was allowed to take it at the Ohashi gym amid the Japanese government's recent declaration of a state of emergency in Tokyo and three neighboring prefectures — Kanagawa, Chiba and Saitama — to fight surging coronavirus infections in the metropolitan area.
The 24-year-old Takei had a two-round of sparring with ninth-ranked Japanese featherweight Tsuyoshi Tameda of the gym.
After informed of the test result, Takei said, ''I am really grateful for having made me take a test to turn pro boxer amid the state of emergency shortly after quitting as a K-1 fighter. Honestly, I had thought the test would be postponed, But I am glad now I am at the starting line as a pro boxer. I hope I can show exciting fight just when I was a K-1 fighter.''
Hideyuki Ohashi, head of the gym, said, ''I felt Takei has a high potential because he overpowered a heavier and hard-hitting featherweight partner in the sparring session. His existence in the professional world is a piece of good news in this day and age of COVID-19-related gloomy news.''
His personal trainer and former three-division world champion Akira Yaegashi said, ''We are training hard so that he can show an excellent performance no matter who he will fight in his debut. We want to boost his boxing ability from the ground up because he will fight either as a bantamweight or as a super bantamweight (where strong boxers abound not only in Japan but in the world).
As a K-1 fighter, Takei had 23 wins, including 16 knockouts, against two defeats. Photo by Ohashi Gym