Oriental and Pacific Boxing Federation featherweight champion Satoshi Shimizu of Ohashi Boxing Gym pounded out a 12-round unanimous decision over World Boxing Organization Asia-Pacific featherweight kingpin Musashi Mori of Yakushiji Boxing and Fitness Gym at Tokyo's Korakuen Hall on May 21.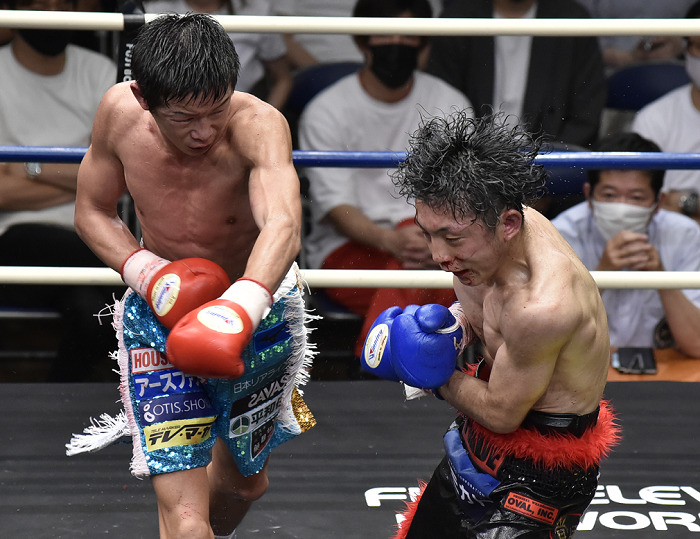 With the victory, the 35-year-old Shimizu, the bantamweight bronze medalist at the 2012 London Olympics, retained the OPBF title for the sixth time. For his part, the 21-year-old Mori failed in his fourth defense of the WBO's regional title.
Shimizu improved his record to 10 wins, including nine knockouts, and a loss. For his part, it was the WBO's fourth-ranked Mori's first defeat after winning 12 straight bouts, including seven KOs.
Two of the three judges scored the fight 118-110 and the remaining one saw it 116-112, all in favor of Simizu. There were no knockdowns throughout the fight.
Both southpaws started out aggressively with the taller Shimizu throwing right jabs and straight lefts. But Mori, nothing daunted, threw his straight lefts followed by right hooks at close range.
While the two finished the first four rounds almost even, Shimizu started outboxing from around the sixth round with his long jabs, straight lefts and uppercuts and got the better of the fight at the end of the eighth stanza.
Shimizu got the momentum going with his punches from the long distance and ended the fight on top. While Mori desperately tried to land his wild lefts and right hooks late in the fight, Shimizu fended off those punches without much ado.