Undisputed world bantamweight champion Naoya ''Monster'' Inoue of Ohashi Boxing Gym said on Jan. 13 he will relinquish all the four bantamweight titles to aim at capturing the super bantamweight titles just like he did at bantamweight.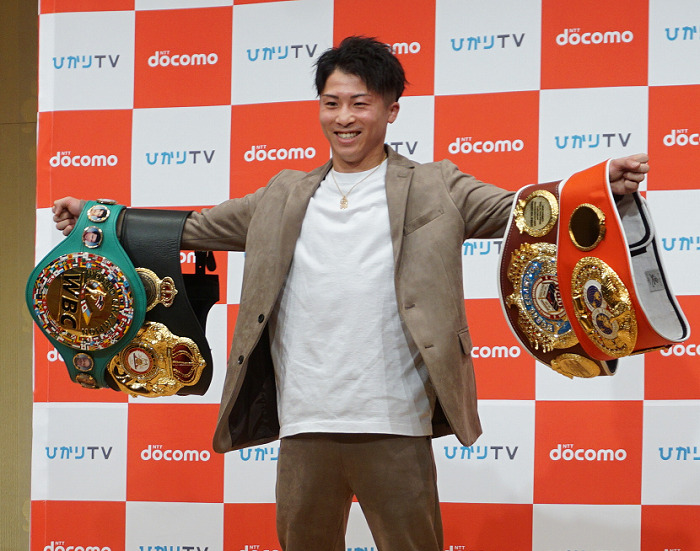 Speaking before a group of reporters at a Yokohama hotel, the 29-year-old Inoue, accompanied by Ohashi gym President Hideyuki Ohashi and Inoue's father and trainer Shingo Inoue, said, ''I will give up all four bantamweight titles (of the major sanctioning bodies) as of today and move up to the super bantamweight division in 2023. Though my most adequate physical frame is bantamweight, I decided to take a crack at the super bantamweight titles since I have nothing unfinished at bantamweight and there is nobody I want to fight in that division. If I unify all the four titles in two different weight classes, that will be the world's first accomplishment. I want to achieve that.''
Inoue knocked out World Boxing Organization bantamweight champion Paul Butler of Britain last month in the title unification fight and completed the sweep of the World Boxing Association, World Boxing Council and International Boxing Federation titles.
Asked about the possible pluses and minuses of the division's change, Inoue replied, ''Since the new division is 1.8 kg above (the 53.52 kg bantamweight), and that is a positive aspect. I have had a hard time reducing my weight to bantamweight. Honestly, I failed to fight with Butler with a feeling of stability in my legs. I think I can fight with more steadiness (at super bantamweight). On the other hand, my opponent's durability will increase. So, I think I can fight even if I train myself with that in mind.''
About Inoue's first fight at super bantamweight, Ohashi said, ''The only thing I can say is we are in the midst of a negotiation.'' Inoue commented, ''Since there are many talented boxers in the division, any fight with them would be exciting. I can think up four boxers immediately. But I will refrain from mentioning their names since my president is in the midst of a negotiation.''
After the Dec. 13 fight with Butler, Inoue resumed roadwork a week later and started training at the gym from Dec. 27. ''Please look at my face will you. I'm all set to fight at any time.''