Japan Pro Boxing Association's committee to call for ''Free Hakamada'' movement and other lobbying bodies held a street rally in Tokyo on Jan. 27 to support former professional boxer Iwao Hakamada, who was convicted in a 1966 quadruple murder case but was released from the Tokyo Detention House in 2014 under a district court ruling, requiring the immediate start of a retrial of the case at the Tokyo High Court.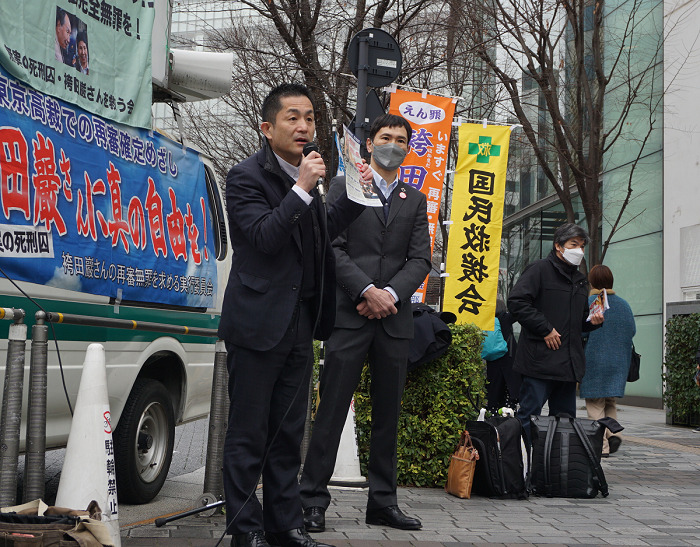 Shosei Nitta, the head of the committee, and leading committee member Yutaka Manabe were joined by other supporters, including House of Councilors member Muneo Suzuki, his daughter and House of Representatives member Takako Suzuki, in the rally held on the street in front of Japan Railways' Yurakucho Station.
Nitta gave a speech by saying, ''We in the boxing world are supporting our predecessor Mr. Hakamada, who is innocent. Would you please keep in mind this false accusation case.''
After the rally, Niiita, Manabe and other supporters visited the nearby Tokyo High Public Prosecutors Office as well as to the Tokyo District Court and submitted their written requests for a withdrawal of the appeal against Hakamada.
While the 86-year-old Hakamada was not taken into custody because of his old age, he is still stigmatized as a death-row inmate. According to the police, Hakamada stabbed to death four family members at a soybean paste shop in Shizuoka Prefecture, central Japan, on June 30, 1966 in an attempt to steal money, and then set fire to the shop after pouring gasoline on the bodies.
Since the inquisition at the high court has recently ended, the final ruling is expected to be made within this coming March.
Amid such circumstances, the committee is planning to mobilize 100 professional boxers, including now-retired boxers, to the Feb. 6 gathering to call for a withdrawal of the appeal against Hakamada.
Those interested in participating in the gathering, please get in touch with the following:
JPBA's committee on ''Free Hakamada'' movement
TEL 03-3812-7447 FAX 03-3812-5260
Email east-boxing@jpbox.jp