Former World Boxing Council female flyweight champion Go Shindo of Green Tsuda Boxing Gym went two rounds of public sparring on Aug. 7 in Osaka Prefecture's Hirakata between an interval of the day's fights at KTM Kawamoto Industry General Sports Center.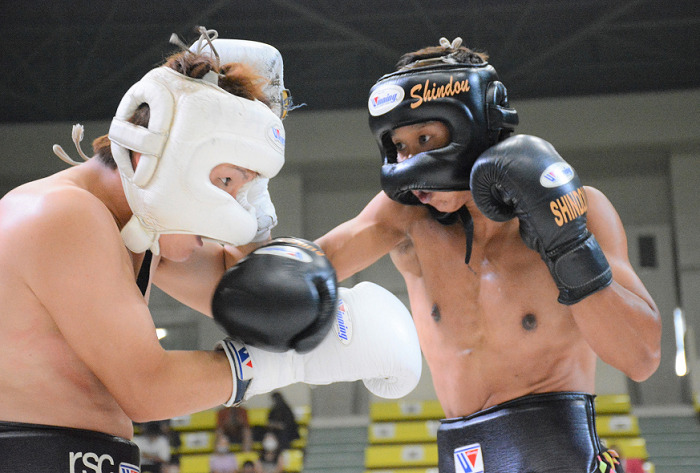 While the 35-year-old Shindo was expected to take a class-C License test for a professional boxer on the day, he could not take the test as Japan Boxing Commission failed to establish a set rule on that by that day.
However, JBC let Shindo have two rounds of sparring sessions with each round lasting three minutes instead of two minutes in the case of female boxing as a kind of advanced evaluation of such boxer to compile a gender policy making.
Shindo sparred with his stablemate Motoki Morimoto, 29, who is a super flyweight four-rounder with seven professional bouts. Shindo showed his mettle by sticking out left jabs and straight rights while working Morimoto's body at close range.
After the sparring, Shindo, who had 16 wins, including 11 KOs, against four losses as a female boxer, said, ''While I had planned to spar relaxed, I strained more than necessary. I will train myself harder before I take a full-fledged test for a pro boxer.'' It was the first time in six years when Shindo sparred (fought) on the ring.
Green Tsuda Gym head Masaya Motoishi said, ''It was a great step for Go Shindo as a transgender as JBC officials observed his conditions and boxing ability first hand.''
Shindo, who became a male by going through sex reassignment surgery in 2017 and changed his family registration after the surgery.