World Boxing Association ''super'' and International Boxing Federation bantamweight champion Naoya ''The Monster'' Inoue of Ohashi Boxing Gym had a total of eight rounds of sparring with his two stablemates in Yokohama on May 12, less than a month before his showdown with World Boxing Council bantamweight kingpin Nonito Donaire of the Philippines on June 7 at Saitama Super Arena in Saitama Prefecture.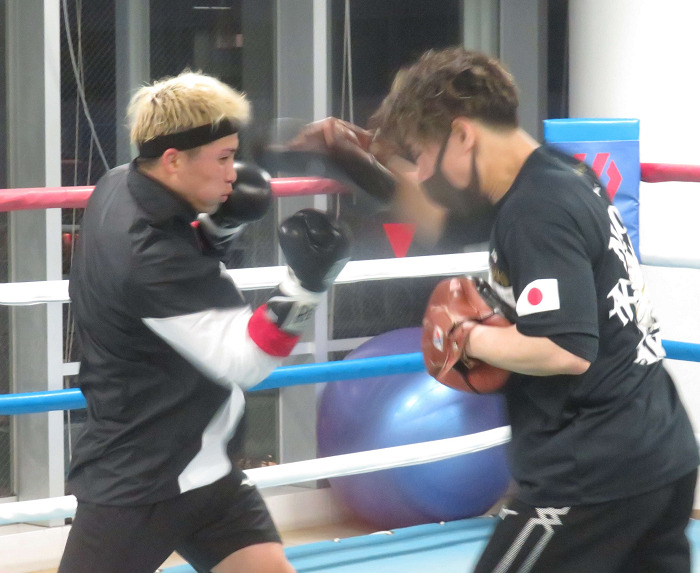 The following is a pool coverage of the question-and-answer session.
Question: Your fight with Donaire is less than a month away. What is your opinion?
Answer: I am of the same mindset. It is the same as always.
Q: You have also sparred with partners from abroad for about a week.
A: Sparring with partners from abroad has served me in good stead. Because, they have different timing from that of Japanese partners. It is the first time that I sparred with Filipino partners in two years and a half after I first fought with Donaire in November 2019.
Q: Your brother Takuma will also fight in the same ring in two years and a half. Any comments?
A: Though I cannot say anything about the prediction of his fight, I feel great that we can train together. My quantity of heat, if your will, in my daily training is different. I am trying to improve by learning from his training. We have synergetic effect.
Q: What about your cousin Koki Inoue's return to the ring?
A: Since we have been training together since we were children, his comeback also gives me a good influence. This will be the first time in a while for us three to train together for our respective fights.
Q: Did you see the fight in which Canelo Alvarez lost (contrary to expectations)?
A: No, I did not see the fight. Since our fighting divisions are so different, I don't have any particular interest in his fights. I think there is a hurdle to overcome if you fight in a division heavier than your hitherto class.
Q: What about your intention to move up in weight?
A: To my way of thinking, moving up in weight is not an easy thing. I, therefore, moved up in weight carefully. But as Mr. Canelo said (I want to do things everybody fears. I want to challenge.), that's a very good comment, especially when I myself want to push the envelope in the future. One's skeletal frame and size difference tell on you if you fight at a weight heavier than you get used to. How to overcome that problem is important. I want to challenge that problem within the boundaries of what is possible.
Q: What is your condition now?
A: My condition is good in this highly motivated bantamweight. As far as motivation is concerned, I think bantamweight is my most adequate weight division. Having said that, winning a super bantamweight title is not too difficult to attain. I want to take a crack at it someday.
Q: What about your ongoing weight reduction effort (to bantamweight)?
A: Yes. It is going smoothly, just like before. If I can clear my fight with Donaire, my fight with (Paul) Butler (the World Boxing Organization bantamweight champion) can be possible. But at this point in time, I will concentrate on my fight with Donaire.
Q: What about the new WBO bantamweight champion?
A: If I can fight, I don't mind who my opponent will be.
Q: Moving up in weight to super bantamweight have recently been on the lips of boxing experts and fans. What is your opinion?
A: Before that, I have never pushed aside the choice of having the title unification fight or fights of the four major sanctioning bodies (at bantamweight). As I am talking about it with my president (the gym's head Hideyuki Ohashi), I don't mind visiting England (Butler's country) to achieve that.
In this connection, Ohashi said, ''It will be the fight after the next. But if he clears the fight with Donaire, I would like to achieve the title unification fight either in Japan or overseas.''